I wanted to share a few notes about the SO GOOD launch and some related material that caught my attention recently…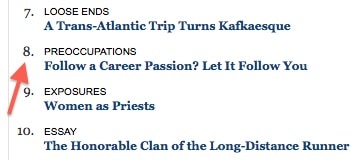 Here's an article I wrote on passion for this Sunday's New York Times. If you're looking for a concise description of the thesis of  SO GOOD — perhaps to share with a passion-obsessed friend or relative — this article is a great way to do it. (As shown on the right, the article moved onto the list of the top 10 most e-mailed articles on the Times this morning, so hopefully the idea is spreading!)
If you're still looking for more about the book, check out the article I wrote for the Harvard Business Review Blog (still one of their most read articles of the past month), or the excerpt that ran at FastCompany.com.
In the meantime, on an unrelated note, my friends, The Minimalists, just published a new book: $5 Simplicity. If you're interested in living a simpler and more meaningful life, few commentators are more thoughtful than Ryan and Josh — definitely check it out. (Also check out their blog; they're about to move into a Walden-style cabin in Montana…should make for interesting reading.)
Also unrelated to the book, Daphne Gray-Grant has recently launched a series chronicling her experiments in applying the principles of deliberate practice to writing. Thought some of you might enjoy hearing about her adventures in career craftsmanship.
As the busyness generated by my book launch begins to fade, I'm excited to return soon to my normal style of posts. I have a lot to share about my most recent attempts and thoughts regarding the quest for a remarkable career…