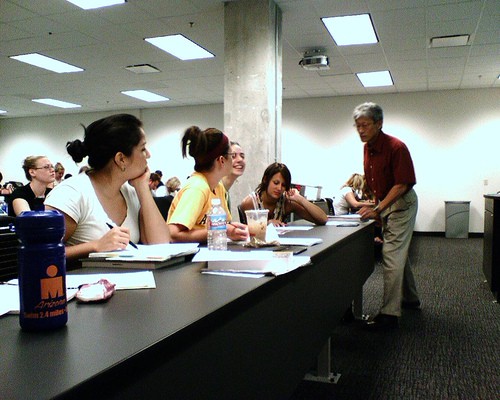 Predicting Greatness
The impact of teachers is profound. If you rank the world's countries by their students' academic performance, the US is somewhere in the middle. In a 2009 New Yorker article, Malcolm Gladwell notes that replacing "the bottom six percent to ten percent of public-school teachers with teachers of average quality" could be enough to close the gap between our current position and the top ranked countries.
"[Y]our child is actually better off in a 'bad' school with an excellent teacher than in an excellent school with a bad teacher," Gladwell concludes.
But there's a problem: "No one knows what a person with the potential to be a great teacher looks like."
Or at least, according to Gladwell.
Teach for America, a non-profit that recruits outstanding college graduates to teach in low-income school districts, disagrees. This organization is fanatical about data.  For the past 20 years, they've gathered massive amounts of statistics on their teachers in an attempt to figure out why some succeed in the classroom and some fail. They then work backwards from these results to identify what traits best predict a potential recruit's success.
As Amanda Ripley reports in a comprehensive look inside the Teach For America process, published in the Atlantic Monthly, the results of this outcome-based approach to hiring are "humbling."
"I came into this with a bunch of theories," the former head of admissions at Teach for America told Ripley. "I was proven wrong at least as many times as I was validated."
When Teach for America first started 20 years ago, applicants were subjectively scored by interviewers on 12 general traits, like "communication" ability. (A sample interview question: "What is wind?")  By contrast, if you were one of the 35,000 students who applied in 2009 (a pool that included 11% of Ivy League seniors), 30 data points, gathered from a combination of questionnaires, demonstrations, and interviews were fed into a detailed quantitative model that returned a hiring recommendation.
This data-driven approach seems to work.  As Ripley reports, in 2007, 24% of Teach for America teachers advanced their students at least one and a half grade levels or more. Two years later, as the organization's models continued to evolve, this number has almost doubled to 44%.
I'm fascinated by Teach For America for a simple reason: the traits they discovered at the core of great teaching are unmistakably a variant of deliberate practice — not the pure, coach-driven practice of professional athletes and chess grandmasters, but a hearty, adaptable strain that's applicable to almost any field.
Put another way, these outstanding teachers may have unwittingly cracked the code for generating a remarkable life…
Inside the Classroom of an Outstanding Teacher
In her Atlantic piece, Ripley recounts an afternoon spent in the math classroom of William Taylor, a teacher in southeast Washington D.C. who ranks in the top 5% of all math teachers in the district.
When Taylor enters the classroom his students fall into a strictly-choreographed interaction.
"Good morning," he calls. "Good morning!" the students answer.
The period begins with Mental Math. Taylor calls out problems which the students answer in their heads. They then write their solutions on orange index cards which they all hold up at the same time.
"If some kids get it wrong, they have not embarrassed themselves," Ripley notes. But Taylor now knows who needs more attention.
After Mental Math, Taylor teaches the class a new method for long division. The students try the strategy in groups of four, each led by a "team leader" that rotates on a regular basis. (Taylor found that students were more receptive to help from their fellow students.) After having the students try the method on their own, Taylor begins calling them up to the board, selecting names at random to ensure no one is overlooked.
"I try, but I can't find a child who isn't talking about math," Ripley recalls about her afternoon in the classroom,
The class continues with a spirited game of Multiplication Bingo. Before the students leave, they have to answer a final problem on a slip of paper that they hand to Taylor at the door — another method for him to assess who is still struggling with the day's material.
What Makes Great Teachers Great?
"Strong teachers insist that effective teaching is neither mysterious nor magical," says Ripley. "It is neither a function of dynamic personality nor dramatic performance."
Instead, Teach for America has identified the following traits as the most important for high-performing teachers such as Taylor:
They set big goals for their students and are perpetually looking for ways to improve their effectiveness.
(In the Atlantic article, Teach for America's in-house professor, Steve Farr, noted that when he sets up visits with superstar teachers they often say something like: "You're welcome to come, but I have to warn you — I am in the middle of just blowing up my classroom structure…because I think it's not working as well as it could." )
They're obsessed about focusing every minute of classroom time toward student learning.
They plan exhaustively and purposefully, "working backward from the desired outcome."
They work "relentlessly"…"refusing to surrender."
They keep students and their families involved in the process.
An expert quoted in the article summarized the findings: "At the end of the day…it's the mind-set that teachers need — a kind of relentless approach to the problem."
The first four traits above should sound familiar. Setting big goals, working backwards from results to process, perpetually trying to improve, relentless focus — these sound a lot like the traits of deliberate practice.
Indeed, when selecting teachers for their program, Teach for America's complex recruiting model identifies graduates who show evidence of having mastered this skill. Two effective predictors of a recruit's classroom success, for example, are improving a GPA from low to high and demonstrating meaningful "leadership achievement." That is, improving a 2.0 to a 4.0 is more important then maintaining a 4.0, and doubling a club's membership is more important than simply being elected president. Teach for America wants signs that you can take a difficult goal and then find a way to make it happen.
A Different Kind of Deliberate Practice
A recent article in the Wall Street Journal estimated that it takes around 500,000 hours of deliberate practice for an NFL team to make it through a season. To put that in perspective, that's about 32 hours of hard work for each foot the ball moves down the field. This effort, of course, is carefully controlled and coached — for example, the article quotes the Colt's defensive end, Keyunta Dawson, talking about the intense training needed to make split second decisions based on subtle positioning of the head or foot of the opposing lineman.
"I thought college was a grind,"  said Dawson. "But this is a job."
When we think about deliberate practice, we tend to think about examples like Dawson, or chess grandmasters, or piano virtuosos being painstakingly coached through a difficult, but well-established, path to mastery.
The examples of this process playing out in classrooms, however, have a different feel. William Taylor doesn't have a coach or decades of well-established training methodology to draw on.
His approach is more free-form. He started with a clear goal — when he presented a concept, he wanted every student to understand it — and then became obsessed with its achievement. His Mental Math exercise, his random selection of students to do problems at the board, the "exit slips" he collected at the end of the period — these activities evolved from a drive to constantly assess his classes' comprehension.
Over time, the extraneous was excised from his classroom schedule (he developed hand signals for the students to use to indicate a need for the bathroom — a way to eliminate the wasted time and distraction of calling on them). He exhaustively plans his lessons, and then ruthlessly culls or modifies any piece that isn't effective.
"I found that the kids were not hard…[i]t was explaining the information to them that was hard," Taylor recalls about his first year. He kept working until he cracked that hard puzzle.
Freestyle Deliberate Practice
Here are the main components of Taylor's approach to deliberate practice:
Build an obsession with a clear goal.
Work backwards from the goal to plan your attack.
Expend hard focus toward this goal every day.
Ruthlessly evaluate and modify your approach to remove what doesn't work and improve what does.
Let's call this approach freestyle deliberate practice to differentiate it from the more structured strain written about in the research literature. Here's my argument: for most fields, freestyle deliberate practice is the key to building a rare and valuable skill. 
Most people fall short of this standard — even those who are highly-motivated to get better. From my experience, two obstacles trap people at an "acceptable plateau" of performance. First, we're uncomfortable blowing up our assumptions and ruthlessly evaluating our approach. It's much easier to choose a plan that feels right, and then follow it blindly. Second, exhaustive focus, on a daily basis, is hard. It's not necessarily hard to do — we're only talking a couple hours out of the day — but in an age of constant electronic distraction, many have lost their ability for hard focus.
Freestyle deliberate practice is not a clearly-structured system that you can plug into your schedule and follow mechanically toward results. It's demanding and personal — touching upon the deepest levels of your character. It requires you to get down in the sweaty trenches of effort and attack short-term projects with an almost animalistic passion.
"Damnit," you'll cry, "good is not good enough…if I can't make this so excellent you'll weep, than it's not worth even trying."
Fortunately, this process also feels great. Not the weak, squirt of dopamine from an interesting Twitter exchange, type of pleasure, but the deep down in your bones, captial-Q, Pirsig-esque appreciation of Quality experienced by master craftsmen throughout history.
I'll end with a simple question: If you're interested in building a remarkable life — be it as a student or industry veteran — what would it mean to integrate freestyle deliberate practice into your life? This is a question I'll certainly be thinking (and writing) about in the weeks to follow.
(Photo by Daniel Greene)