Quick hits is an occasional feature where I take a breather between my epic big idea posts to share ideas, ask questions, and in general provide a catch-all place for me to catch up with you. 
Deliberate Practice in Unconventional Places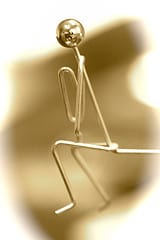 I'm not the only one with deliberate practice on my mind. A variety of bloggers have been exploring this powerful idea…
Do You Love What You Do? If So, I Want to Talk with You.
You may have noticed by now my infatuation with the science of career satisfaction. I want to temper all this fancy lab learning with some good 'ole fashioned on the ground reporting.
With this in mind, if you're someone who loves what you do — the type of person people point to and say "that's what I want my life to be like" — please consider sending me an e-mail at author [at] calnewport.com.
I want to hear your story.
Use the Comment Thread of this Post to Ask Me Anything!
Speaking of e-mail, if you have a question, comment, or devastating insult to hurl my direction, and you don't want to wait the 1 – 2 weeks it can sometimes take me to get through my blog e-mails, leave it as a comment on this post. For the next few days I'll check and respond to these comments regularly.
(Photo by envios)