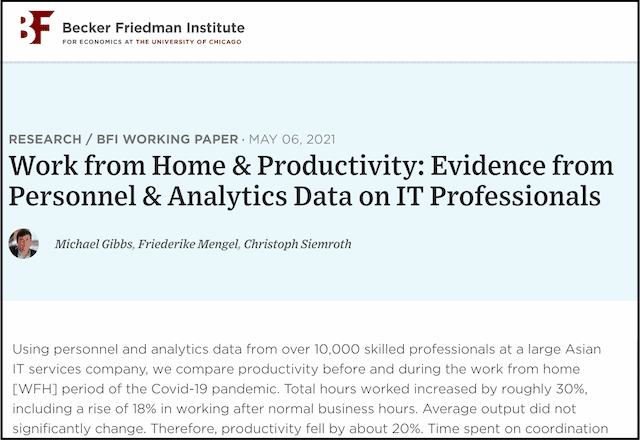 Early in the pandemic, I wrote a big piece for the New Yorker about the potential implications of our sudden shift to remote work. One of my predictions was that the shortcomings of the largely improvisational and informal methods by which we currently organize knowledge work — what I call "the hyperactive hive mind"  — would be exaggerated by this shift, leading to even more overload:
"In such a chaotic work environment, there are profound advantages to gathering people together in one place. In person, for instance, the social cost of asking someone to take on a task is amplified; this friction gives colleagues reason to be thoughtful about the number of tasks they pass off to others…In other ways, meanwhile, offices can be helpfully frictionless. Drawn-out e-mail conversations can be cut short with just a few minutes of spontaneous hallway conversation. When we work remotely, this kind of ad-hoc coördination becomes harder to organize, and decisions start to drag."
New research supports this prediction. A working paper recently published by a group of respected economists from the University of Chicago carefully studies a group of over 10,000 IT professionals to assess the impact of pandemic-induced remote work.
Here's the key finding:
"Total hours worked increased by roughly 30%, including a rise of 18% in working after normal business hours. Average output did not significantly change. Therefore, productivity fell by about 20%."
This result is important.
It's become common to hear business leaders claim that the lesson of the pandemic is that telecommuting can be just as productive as working in an office. But we have to be careful about terminology. When they say "just as productive," what they often really mean, as found in the Chicago study, is that the workers were still able get their work done when at home.
What this observation misses, as also found in the study, is that getting this same work done now requires more total hours. That's a decrease in productivity. And because these efforts now necessitate more work in the morning or evenings, they're likely creating more worker dissatisfaction and burnout.
Put bluntly, the hyperactive hive mind is not compatible with remote work. We managed to keep the proverbial ship afloat from our homes during the amplified disruption of the last year, but a 20% decrease in overall productivity is not a condition we can maintain in the long term.
This leaves us two options: either we bring everyone back to physical offices, or we finally get around to replacing the hive mind with more structured forms of collaboration. (As I point out in the New Yorker piece, software developers have an easier time moving their efforts remote because they long ago replaced the hive mind workflow — in which collaboration unfolds through frenetic, unscheduled messaging and meetings — with much more structured systems, like Scrum or Kan Ban).
I really hope we embrace the latter option, as not only will it make higher rates of remote work sustainable, it will make knowledge work better for everyone. But I fear the former option will end up seeming more attractive in the moment.
(Hat tip: Tyler Cowen)