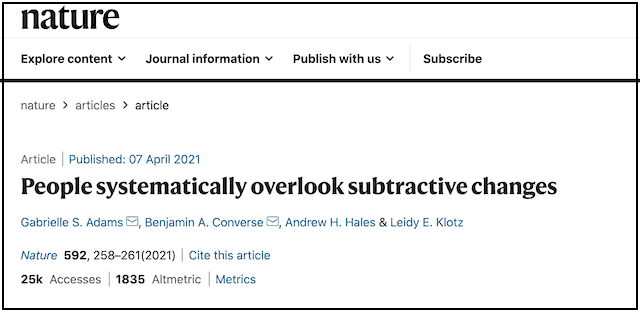 In a paper published last month in the journal Nature (summary), a group of scientists from the University of Virginia reported on a series of experiments designed to assess how we solve problems. When presented with a challenging scenario, humans cannot evaluate every possible solution, so we instead deploy heuristics to prune this search space down to a much smaller number of promising candidates. As this paper demonstrates,  when engaged in this pruning, we're biased toward solutions that add components instead of those that subtract them.
This quirk in our mental processing matters. Potentially a lot. As the authors of the paper conjecture:
"Defaulting to searches for additive changes may be one reason that people struggle to mitigate overburdened schedules, institutional red tape, and damaging effects on the planet."
As I read about this finding, I couldn't help but also think about the epidemic of chronic overload that currently afflicts so many knowledge workers. The volume of obligations on our proverbial plates — vague projects, off-hand promises, quick calls and small tasks — continues to increase at an alarming rate. There was a time, not that long ago, when the standard response to the query, "How are you?", was an innocuous "fine"; today, it's rare to encounter someone who doesn't instead respond with a weary "busy."
Does the wiring of our brains play a role in this reality?
I hadn't thought about this possibility before, but this new paper raises some intriguing possibilities. The collision of knowledge work (a new thing) with the digital age (an even newer thing) disrupted the professional world, making many office jobs more haphazard and improvisational than ever before. Confronted with this novelty, perhaps our brains fell back to a default answer: do more!
Like the subjects in the experiments reported in this recent paper, however, the best solution to these problems might often instead be to do less. You want more out of your employees? Radically reduce their responsibilities, then leave them alone to execute. You want your small business to grow? Focus your attention on a single target, and give yourself the space to do it better.
Clearly brain biases are not the only factor involved in explaining the growth of busyness culture, but it's a partial explanation that's worth (if you'll excuse the pun) keeping in mind.
(Hat tip: Jesse)