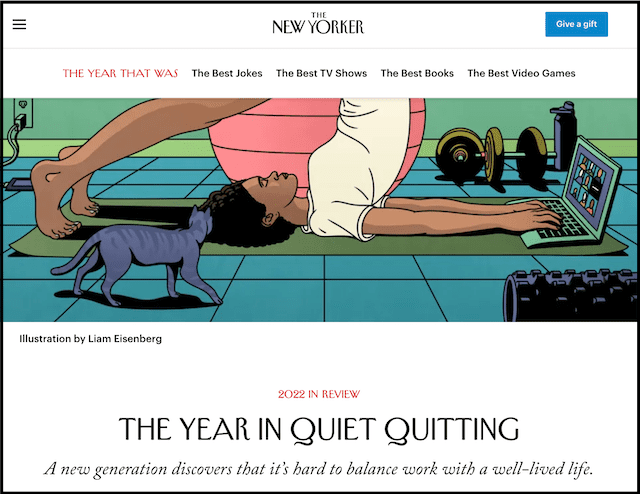 In my latest essay for The New Yorker, published earlier this week, I tackled the topic of "quiet quitting." This idea careened into mainstream discourse last summer, powered by a viral TikTok video posted by a twentysomething engineer named Zaid Khan.
Here's the transcript:
"I recently heard about this idea of quiet quitting where, you're not quitting your job, but quitting the idea of going above and beyond at work.

You're still performing your duties, but you're not subscribing to the hustle culture mentality that your work is your life.

The reality is that it's not. And your worth as a person is not defined by your labor."
Khan's earnest declarations earned him acclaim on TikTok, where numerous other videos took up the theme; some outraged in tone, others satiric. As word of the trend spread beyond social media, mainstream commentators weren't so nice. In a CNBC appearance, Shark Tank star Kevin O'Leary described quiet quitting as "worse than COVID."
It was exactly this confused reaction to this trend that caught my interest. As I note in my article, when it comes to quiet quitting, "we're simultaneously baffled and enthusiastic." I set out to understand why.
I don't want to spoil all of my conclusions, but here's a high-level summary of my thesis: quiet quitting represents Gen Z (those born between 1997 and 2012) taking their turn at a reckoning with work that older generations have already gone through.
It's easy, in other words, for us Millennials to be smug about the college seminar sincerity of this movement — your worth as a person is not defined by your labor! — but it wasn't that long ago that we were convinced that running remote businesses in Tulum was the right response to economic disruptions of the post-9/11 world.
Every generation reaches a point where they begin to think more critically about what role, exactly, work should play in their life. This process often starts with wild ideas, but eventually settles down into something more nuanced. "Quiet quitting is the messy starting gun of a new generation embarking on this challenge," I conclude. We shouldn't be anything other than happy that Gen Z is now joining this race, even if this might require us to ignore the specifics of what they're saying at the moment.
#####
In the latest episode of my Deep Questions podcast (#228), I tackle the possibility of a "world without busyness," and answer audience questions on a variety of topics, from the role of social media in marketing, to dealing with demands for after-hours work.