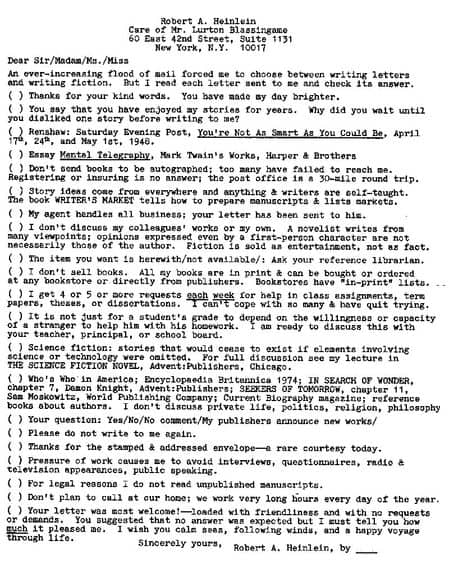 A reader recently pointed me toward a fascinating post on Kevin Kelly's CT2 blog. It concerned the fan mail received by the famed science fiction author Robert Heinlein. Unable to keep up with the deluge of incoming correspondence, Heinlein devised a form letter (pictured above), which included responses to twenty-one common questions and requests.
These canned replies include, for example, a pointer to the book Writer's Market for more information on how to prepare manuscripts for submission, and an apologetic note explaining that Heinlein is unable to participate in class assignments. (I empathize with this last one. I'm honored by the surprisingly large number of classes that assign my books or articles, but to my regret, I rarely have enough time to participate in evaluating this work.) To answer fan mail, Heinlein would simply check the box on the form letter next to the most appropriate response.
If we fast forward a few decades later, we find a further refinement on this idea from Neal Stephenson, a literary descendent of Heinlein, who stopped these messages before they arrived by posting an essay on the "contact" page of his website that explains why you shouldn't bother trying to bother him. It's called "Why I'm a Bad Correspondent," and it includes one of my all-time favorite passages about communication:
"If I organize my life in such a way that I get lots of long, consecutive, uninterrupted time-chunks, I can write novels. But as those chunks get separated and fragmented, my productivity as a novelist drops spectacularly. What replaces it? Instead of a novel that will be around for a long time, and that will, with luck, be read by many people, there is a bunch of e-mail messages that I have sent out to individual persons, and a few speeches given at various conferences."
The rules by which we communicate have a big impact on our ability to do useful work. Too often we just accept whatever seems standard or easy in the moment. It's nice to remind ourselves that not everyone accepts this fate.