Ahead of the Curve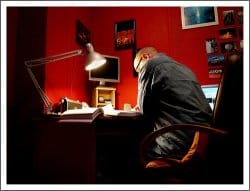 Recently, I've been reading Ahead of the Curve, Philip Delves Broughton's memoir of his time at Harvard Business School. It's a reasonably interesting read, buoyed more by Broughton's writing ability (he was a professional journalist before arriving at HBS) than the events that transpired (attending b-school, as it turns out, is not an adrenaline-soaked adventure).
There was one passage, however, from page 85 of the paperback edition, that caught my attention. It reads:
At a meeting of the Mormon Club, [the dean of HBS] explained the secret of his success. He has whittled his life down to just four things: work, family, faith, and golf.
This focus was later elaborated:
As an academic, he used to arrive at his office at dawn and work in silence until lunch time. Only then would he engage with the world…On Saturdays he played golf, and on Sundays he spent the day at church with his family.
Then came the conclusion:
Such discipline had propelled him to the leadership of the school.

This idea, of course, shares similarities with our many discussions here about doing less things better. But I appreciate the starkness of the Dean's commitment to focus — a list of only four things captures everything that matters in his life.
This leds me to an interesting thought: I wonder if the most important advice one could give a college student, or recent graduate, about building a successful life, is to recommend that they list their own four things as soon as possible. That is, identify the small number of things you want to focus on in life, so you can then go about the business of doing them really well.
Chad Fowler, the CTO of a respected contract programming shop, tackled this same issue from a different direction in a recent guest post over at Tim Ferriss's blog. Fowler said:
I recognized it from the big problems I have successfully solved in my life. The secret is to focus on whatever it is you're trying to improve and make it better today than it was yesterday.
Ben Casnocha provided his own insightful take on the subject in a recent blog post titled Shrinking the "Stuff I Really Care About" Box. He noted:
[I should] focus intensely on those things [that I really care about] and let go and/or be non-competitive on everything else.
When you hear an idea once, it might merit an idle consideration. But when you hear it again and again, from a diverse collection of sources, it demands your attention. The particular idea here demanding my attention can be summarized simply: hard focus-style work on a small number of things is the basic currency of almost any success.
As I'm about to complete one phase of my life — I'm in the final weeks of my PhD program and am finishing what might be my last student-centric book — and start a new phase — in the fall, I'm starting a postdoc here at MIT and I don't know what I will write next — you can be sure that I'll be giving a lot of thought to pruning and polishing my own short list of things that matter.