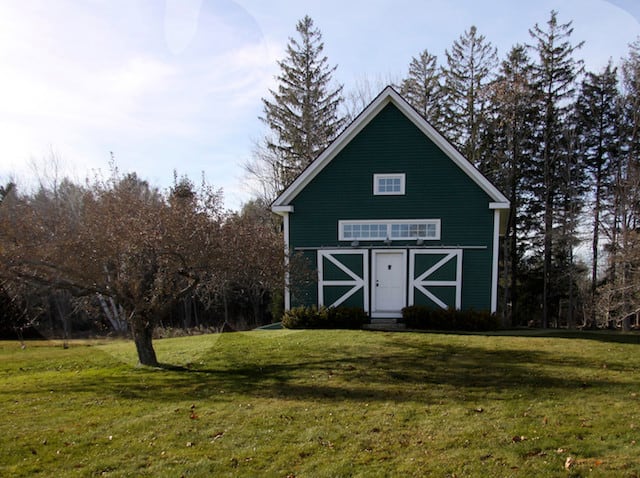 The Part-Time Farmer
I've been reading Simon Winchester ever since I came across a paperback copy of The Professor and the Madman in my first year of college. Winchester writes on an eclectic mix of topics — from dictionaries, to natural disasters, to bodies of water, to, most recently, the history of precision engineering (naturally) — and his audience follows him because he's good at what he does.
As I've noted many times on this blog, and argued in Deep Work, thinkers who produce unusually original and productive bodies of work often operate in environments that they specifically contrived to help support these cognitive efforts.
Winchester, I was pleased to recently discover, provides a nice case study of this rule in action.
As reported by the Berkshire Eagle, the British-born author splits his time between New York City and a small  farm in Sandisfield, Massachusetts, nestled in the southern Berkshire Mountains: "a bucolic agrarian space with geese, chickens and gardens."
While in Sandisfield, Winchester lives in an old farmhouse where he keeps his collection of old clocks. When it comes time for deep work, he retreats to a writer's barn (see above picture) with an interesting history.
"[It's an] old timber-framed barn, a onetime granary built in upstate New York back in the 1820s. It was a tumbledown ruin when I bought it, and so I had its posts and beams trucked down to where I live…"
"Now it's filled with books and so much sunlight that in the winter I have to take a break from writing for a while. My view is a line of pine trees, a meadow and newly planted apple trees. And there's an owl that often comes in the evening."
One of the more interesting ideas emerging from attention capital theory is the surprising role environment can play in supporting elite cognitive performance.
Professional writers seem to be at the cutting edge of this experimentation, but I wouldn't be surprised if, in the near future, we start to see more serious attention paid to constructing seriously deep spaces as our economy shifts towards increasingly demanding knowledge work.
In the meantime, if you need me, I'll be browsing Berkshire farmland on Zillow…
#####
Speaking of intentional living, one of my favorite bloggers, Liz Thames of Frugalwoods fame, recently published her first book: Meet the Frugalwoods: Achieving Financial Independence Through Simple Living. It tells the story of how she and her husband Nate left a busy life in Cambridge, MA, to live simply but richly on a 66-acre homestead in Vermont. I recently interviewed Liz for my upcoming book on digital minimalism, and was fascinated by the conversation. I recommend both her blog and book.