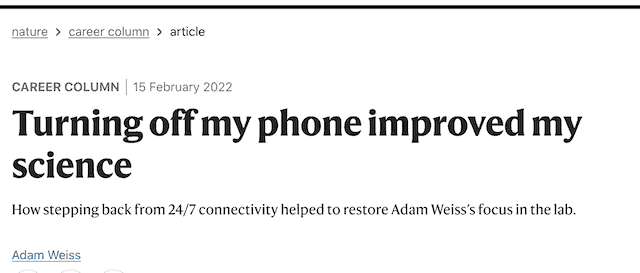 Last month, Adam Weiss, a fourth-year chemistry PhD student at the University of Chicago, published a column in the journal Nature. In the piece, Weiss talked about how he had recently hit "a rut" in his polymer chemistry research. "Although I had been productive early in my graduate career," he wrote, "my long hours and hard work were no longer translating into success in the laboratory."
It didn't take much self-reflection for Weiss to identify the problem: his phone. He recognized that he increasingly colonized his "quiet time" with digital distractions. As a result, his work felt "chaotic and disorganized." Throwing more hours at the problem didn't help: "I was working more than ever, but getting less done."
So Weiss tried something drastic. He ditched his smartphone during work hours, relying instead on an old fashioned feature phone without an internet connection. He decided email and Slack messages would have to wait until he returned from the lab. For music, he used an iPod.
Weiss suffered from some withdrawal symptoms ("[I was] staring at my iPod throughout the day and hoping for a rush of dopamine that no longer came"), but these eventually passed. With time, his comfort with deep thinking returned. As he explained:
"I started reading papers during long experiments, and began a habit of writing in my down time. These practices have already yielded success: I am currently preparing a review article for submission with my adviser, and I've written this column and other personal reflective works."
Liberated from the incessant drip of context-shifting diversion, Weiss's anxiety diminished while his productivity and creativity improved, generating "an abundance of new scientific ideas."
I was struck by two observations about this story…
The first is optimistic. Witnessing Weiss's dramatic transformation provides hope for the countless others who find themselves stumbling through a maze of disorganized, emotional thoughts, set against a background hum of unspecified anxiety. Something as simple as disconnection can yield profound results.
The second is pessimistic. The rareness of Weiss's dramatic transformation underscores the vastness of the creative, energetic, innovative, impact-inducing cognitive potential in the world that's currently being suppressed by these ubiquitous slabs of glowing glass. This is the question that haunts me: How much genius are we losing to the compulsive need to scroll just a little bit more?