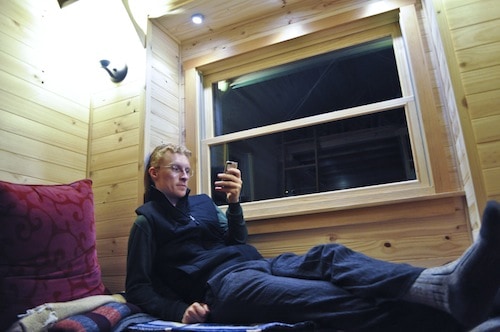 A Simple Tower
My friend Chris Guillebeau just published his latest manifesto. It's called The Tower.
In the manifesto, Chris asks: "what truly matters?"
"The purpose of life," he eventually answers, " is to create something meaningful that will endure after we're gone."
What caught my attention today was an article Chris wrote promoting The Tower. It was a parable about a farmer who realizes that a simple life in his fields — a life devoid of distraction and undue stress — was not enough.
"Deep inside his soul," Chris writes, "the farmer wanted a challenge."
It's not just the content of Chris's article that interests me, but also where he posted it: on Leo Babuta's minimalism blog, Zen Habits.
Whether or not this was his intention, Chris hit upon a crucial tension in our corner of the self improvement world.
To understand this tension, keep in mind that Zen Habits is the flagship of the powerful minimalist movement. This is a movement that rejects stuff and busyness; it drives people to give away junk they don't need,  stop acquiring, and live cheaply, which in turn lets them step away from overly-demanding jobs, debt, and long commutes.
It's most visible proponents have gone so far as to move into tiny houses that they build by hand and that can be pulled around on a trailer.
Minimalism is a powerful idea. Clutter and demands in our lives leads to clutter and demands in our minds, which in turn leads to stress and unhappiness (c.f., Winifred Gallagher's under-appreciated book, Rapt). And if our current cultural situation is anything, it's cluttered.
But Chris's post highlights the achilles heel of minimalism. We are also wired to make an impact (c.f., Victor Frankl). Once distraction is cleared from our lives something meaningful needs to fill the vacuum.
When I browse the most pure of the minimalism blogs, like Tammy Strobel's compulsively readable Rowdy Kittens, this background attraction toward legacy pulls at my attention. I crave simplicity. But I also crave challenge.
Bringing together these two cravings, in my humble opinion, might be one of the most original and effective ideas to come out of our piece of the web; a point of convergence that the different schools of advice blogging — lifestyle design, minimalism, the passionistas, evidence-based success strategists — are all blindly evolving towards; perhaps even a grand unified theory of building a happy life in modern America.
Of course, I've been nibbling around the edges of this convergence for years here on Study Hacks.
My student readers have had my mantra drilled into their head time and again: Do less. But do the very small number of things you do very well.
My readers in the career world are increasingly hearing a variant of this theme: Choose one thing to do really, really well, then leverage this value to take control of your career.
There is, however, a lot of work to be done to advance this convergence. (For one thing, I can't hold a candle to Leo or Tammy's ability to evoke the contentment of simplicity.) Which is why I was happy to see Chris stroll over to Leo's world, admire the uncluttered view, and then ask, "now what?"
(Image from Rowdy Kittens, taken by Tammy Strobel.)