The Power of Innovation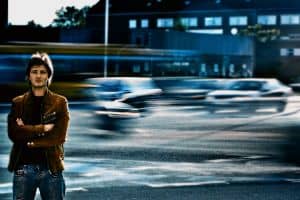 At the core of the Zen Valedictorian philosophy is the idea that if you really understand the psychology of impressiveness, you can, in effect, hack your image — making yourself outrageously impressive without having to become outrageously hard working.

I introduced two techniques for achieving this goal. The first, focus, stated that becoming very good at one thing was more impressive (and less time consuming) than becoming kind of good at many. The second technique, innovate, was more difficult to parse. It stated that any activity that made someone think "how did he do that!?" would yield rewards that were disproportionately large compared to the effort put in.
In this post, I dive into the details of this idea and describe both why the innovate factor is so strong and how you can achieve it.
Some Innovative Examples
Let's begin with some examples. Below are three activities that generate the "how did he do that!?" response. Each is based, loosely, off of real students:
A high school student who designed a technology-based curriculum recently adopted by several states.
A college student who setup the U.N.'s first youth advisory council and led the effort to write a youth rights constitution adopted by the Arab League.
A high school student who ran a web design company that involved the managing of a dozen contract employees and servicing 5-figure corporate contracts.
Each of these examples, most will agree, are impressive. These students, no doubt, will have many interesting opportunities afforded to them: they'll get accepted to good colleges (relative to their grades) and have their pick of cool jobs. Lurking behind this reality, however, is an insistent question: why, exactly, do these activities command so much respect?
Some Non-Innovative Examples
To help answer this question, consider, as a point of comparison, the following list of more standard activities:
A high school student who was the president of two student clubs and was a member of the varsity tennis team.
A college student who did well in a double-major and also sat on two different student activity councils.
A high school student who played trumpet in her state's regional orchestra.
Compared to the previous list, these three activities probably did not elicit the same level of admiration. Certainly, these students are more impressive than the average schlub, but, on the other hand, we don't imagine them necessarily breezing into top colleges or having their pick of post graduation jobs. Whereas the students in the first list might be called superstars, these latter students might be stuck with the moniker of "grind," "hardworking," or, pronounced, no doubt, with a note of disdain: "ambitious."
Why do we judge these two student groups so differently?
If pressed, you would likely guess that impressiveness is a function of talent and hard work. The above examples, however, falsify this hypothesis. The activities of the second list require just as much hard work, and, in many cases, such as varsity tennis and regional orchestra, more natural talent than the activities of the first list. Yet, the first list strikes us as much, much more impressive.
Indeed, the real reason the first list is so much more impressive can be attributed to a little understood phenomenon…
The Failed Simulation Effect
When presented with a student biography we tend to oblige our instinct to mentally simulate the path that led to that student's achievements. For example, when we hear about a student holding down two different club presidencies and a spot on the tennis team, we imagine the hectic, running from meeting to meeting lifestyle that supports that volume of tasks. We have no problem with this simulation. We know students like this. We feel that, with a high enough tolerance for pain, we too could be that busy. It's hard work. But it's not mysterious.
What happens, however, when presented with the story of a student who works with the U.N. and drafted a constitution for the Arab League? Our simulation apparatus fails. We don't know how, exactly, one becomes a player in major international organizations.
The effect of this failed simulation: a sense of novelty and wonder.
And it is exactly this feeling that we end up interpreting as the sensation of being "really damn impressed." In other words: The first three sample students elicit great admiration not because they are harder working or more talented than the second list, but because we cannot simulate the path they took to their achievements. This failure intrigues us. We don't feel like we could have done the same. We don't feel threatened. A sense of novelty and wonder sluices through our synapses.
Leveraging the Failed Simulation Effect
Understanding this subtle mental effect allows you to maximize the impressiveness you reap from the effort you expend in activities. The key, we now understand, is to push activities into a realm where most people cannot easily imagine the steps that got you to your destination. Here's the good news: such pushes are a function more of planning and creativity than of hard work.

From my experience in deconstructing the paths taken by these types of students, I can identify three steps that will help you get to this impressiveness sweet spot:
Enter a Closed World and Exceed Expectations. The first step is to get involved as an insider in a world that interests you. This might mean landing an internship, or shadowing someone, or joining a relevant club. Once there — and this is key — tackle the opportunities given to you with vigor. Complete them fast. Go slightly above and beyond. In such entry-level, non-full time situations, the people above you will be pleasantly surprised that you are getting things done. You will soon be rewarded for this.
Package Insider Connections. After you've proved yourself in this world, you'll begin to notice interesting opportunities that only an insider, like yourself, would know about. Look for an opportunity to lead a project that would be available only to someone on the inside. Leverage your insider knowledge to its fullest extent.
Escalate. The solo project from (2) will defeat most people's simulation apparatus as it was built upon connections available only to insiders. In this final step, leverage this effect, and the good job you did your past project, to shake loose an even more un-simulatable project. Repeat this process a few times, with each iteration ramping up to an even more insider-supported, harder to simulate project.
Case Studies: How The Three Example Students Applied These Steps
Let's examine how these three steps were applied by the sample impressive students at the beginning of the article.
Case Study #1: The high school student who wrote the curriculum.
She satisfied step (1) by taking a student internship at a well-known technology company. She then satisfied (2) by getting involved — and following through — on an internal project involving the application of the company's technology to educational settings. Finally, (3) was satisfied when she volunteered, as her main intern project, to package up these findings into a full curriculum. By doing a good job and following through, she got the company to pitch the curriculum to their school partners; several picked it up.
None of this required any more effort than the standard high school summer job. But because it leveraged opportunities only available to someone working inside the education department of a technology company, it appears, to an outsider, to be un-simulatable — "how do you get states to adopt a curriculum you wrote!?" — and thus really damn impressive.
Case Study #2: The college student who worked with the U.N. and Arab League.
Attending school in the middle east, this student met up, by coincidence, with an old friend who had started an international youth activism network. To satisfy (1), he agreed to start a chapter of the organization in his own neck of the woods. He pushed the chapter to meet regularly and grow. By doing so, he met some important contacts and identified some important youth issues in the middle east. To satisfy (2), he made a lateral move to start his own organization focused solely on middle east youth issues. By attending conferences, and making phone calls, people got to know him. Finally, to get at (3), he leveraged this status and his connections to get invitations to help lead relevant initiatives at the U.N. and the Arab League. No mystery. He ran a youth organization in an under-represented region. These international bodies wanted to work on these issues. It was a natural fit.
This was hard work. But no more so than the running of any large club. Because, however, it dealt with an insider world — a vibrant sub-culture of international youth activism — it yielded rewards — involvement with the U.N. and Arab League — that, to an outsider, seem absolutely inexplicable.
Case Study #3: The high school CEO.
I'll come clean: this story is based on the company I started in high school with my friend Michael Simmons. Mike and I knew how to design basic web sites because we were, well, nerds. Hoping to make some money, we stumbled across a local guy who ran a business directory web site for the Princeton area where we lived. To satisfy (1), we setup a little deal to help small business he listed build simple web sites. To satisfy (2), we leveraged the portfolio and experience this provided us to strike out on our own. One of our key insights working with the business directory was that it was easy to find sub-contractors that would, for a cut of the fee, tackle most of the time-consuming tasks of designing web sites. We landed a few clients and made some money. Finally, to satisfy (3), we leveraged the fact that our company looked like a big deal to hire a CEO, print some fancy marketing materials, buy suits, build up our team of sub-contractors, and, most importantly, raise our fees.
The company was fun. We never had more than one or two clients at a time. And our responsibility was mainly keeping them posted while our sub-contractors did the work. Looking back, Mike and I estimate the time we spent was roughly equivalent to being the president of a student club. The rewards, however, were so much higher. Because we leveraged the insider knowledge gained by working with a local web portal, we were quickly able to get to a point that foiled most people's simulation apparatus.
In Conclusion
I apologize for the length of this article, but the subject of activity innovation is tricky. It is also, I must admit, one of my favorite issues to explore. If you're looking to make an impact in this world — and you want to do so without suffering a steady stream of stress-induced panic attacks — you need to look beyond the standard exaltations to simply "get started!" and "work hard!" and "follow your passion and it will all work out!" Instead, think carefully about how impressive achievements really come about. When you know what you're doing, you will be surprised by how soon you can get somewhere that earns serious admiration.