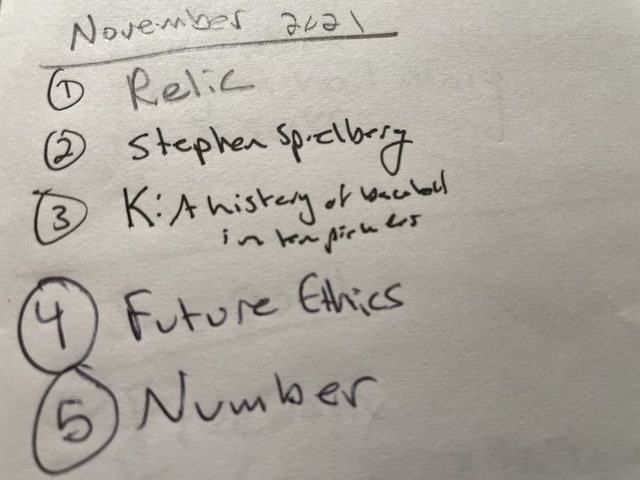 Since last spring, I've been pursuing the goal of reading five books a month. To meet this mark, I start with a foundation of daily reading, but then, when I get momentum going on a given book, I schedule extra reading sessions in my time block schedule, allowing me to accelerate toward completion. I also include at least one audio title each month, and try to mix together a diversity of genres to keep things interesting.
Recently, on my podcast, I adopted the habit of of briefly reviewing the books I read each month. I thought it might be fun to replicate these reviews here in written form (an homage, I suppose, to my friend Ryan Holiday's epic and longstanding Reading List newsletter).
Without additional preamble, here are the five books I completed* in November 2021:
Relic
Douglas Preston and Lincoln Child
One of the best thrillers of the 1990s. I re-read this book in honor of Halloween this year (but didn't finish until November) and was pleased to find that it held up. The basic plot is straightforward: an apparent monster is loose in the American Museum of Natural History. The execution, however, is superb. The book mixes multiple genres, including techno-thriller, mystery, and horror, and leans into the fact that Preston spent eight years working at the Museum before hatching the scheme to write this thriller with Child.
Steven Spielberg: A Biography
Joseph McBride
After reading a film studies textbook in October (long story), I've been on a bit of a popular cinema kick. It was this interest that led me to Joseph McBridge's exhaustively researched 1997 biography of the wunderkind director.  McBride deploys a loosely Freudian approach to his subject, meaning that you should prepare for a long analytical treatment of Spielberg's childhood. The narrative picks up steam, however, when a family friend at Universal, impressed by Firelight, an amateur 8mm feature Spielberg filmed using his friends and neighbors as cast, wrangles up an internship for the teenager on the studio lot. Spielberg haunts sets and the commissary, obsessively soaking in the trade. He then puts everything he learned into a feature short called Amblin, which is so polished that Universal pulls the trigger to hire the precocious 21-year-old to a television directing contract. Spoiler alert: things subsequently go quite well. My key takeaway from the book: Spielberg, for reasons that McBride can never quite nail down, was capital-D driven. His story provides a master class in the potential of mixing relentless ambition, talent, and perfect timing.
K: A History of Baseball in Ten Pitches
Tyler Kepner
I actually bought this book back in July from one of my favorite booksellers, Labyrinth Books, on Nassau Street, in Princeton, New Jersey. I didn't get around to really reading it, however, until this fall. The book provides a brief oral history of ten important baseball pitches. Kepner, a baseball columnist for the Times, mixes a lot of original interviews with aging baseball greats with archival research. As you might expect from a Times reporter, the writing craft is superb. As someone who came to baseball relatively late (my twenties), however, I occasionally found myself drowning in repeated references to players I didn't recognize. The book leans more towards nostalgia than a Moneyball-style contrarian sharpness.
Future Ethics
Cennydd Bowles
For obvious reason, I've recently taken up a professional interest in digital ethics. Bowles' 2018 book provides a useful survey of the various problems tackled by this nascent field, and the frameworks that have emerged to tackle them. I particularly enjoyed Bowles sharp summary of Peter-Paul Verbeek's Mediation Theory, which I first came across in Verbeek's classic, Moralizing Technology, and which I think provides arguably the best take we currently have on our complicated relationship with modern tools. (Indeed, I would argue that Digital Minimalism is itself a practical instantiation of this theory's main proposals.)
Number: The Language of Science
Tobias Dantzig
Original written in the 1930s, and boasting a book jacket blurb from Albert Einstein ("Beyond doubt the most interesting book on the evolution of mathematics which has ever fallen into my hands"), Number provides a cultural history of our increasingly complicated understanding of what we mean by the notion of a number. Dantzig starts with the emergence of a "counting sense" in humans that goes beyond what other animals can manage, and ends with Cantor's uncountable infinities. Though the book perhaps gets a little too math-ey by the end (and this is coming from someone who is literally teaching discrete mathematics to university students at the moment), Dantzig provides a compelling overview of what we mean when we talk about "numbers," and why this is a question that we must repeatedly keep re-visiting.
* Not every book is read within the exact days of a given month, so my rule is to count each book in the month in which I complete it.