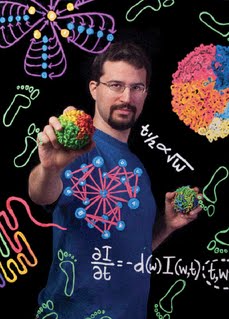 The Irrepressible Erez
If you'll indulge me, I'd like to return for the moment to my obsession with Erez Lieberman. As you might recall, Lieberman is a rising star in the science world. He's currently a fellow at Harvard's elite Society of Fellows and a visiting faculty member at Google. He was selected for the Tech Review's 35 Innovators Under 35 list, his work has been featured on the front page of the The New York Times, and the NIH just gave him a $2.5 million New Innovators grant.
When Lieberman's stint as a Harvard fellow is over, he'll have his choice of academic positions.
In other words, Erez Lieberman is remarkable, and this makes him interesting to us — not just those of us who happen to be grad students or professors, but to anyone who is interested in my Career Craftsman philosophy, which posits that becoming so good they can't ignore you is the foundation for building a working life you love.
With all this in mind, I thought it useful to dive deeper into Lieberman's story and see what insights I could uncover…
A Publication Power Hitter
Here's what caught my attention about Lieberman: his publication record. His web site currently lists six papers. For someone in his field at his age, this is right around average (if not actually a little low). But what's important about this list is not its quantity, but its quality.
All six of Lieberman's papers were published in either Science or Nature. Two of these were cover articles.
For those of you not familiar with the world of science publishing: this is an absurdly impressive feat.
To use a baseball analogy, Lieberman is a power hitter. He's willing to stand at the plate all day watching the pitcher paint the corners, waiting for that one juicy pitch over the middle that he can crush.
In my experience, most people are hesitant to adopt a power hitter approach to their projects — be it in academia or elsewhere. Assuming you have a fixed amount of time to dedicate to projects, you can either use this time to produce a large amount of solid work or a small amount of great work. To most, the first option seems safer, easier, and more satisfyingly productive.
The more I ponder Lieberman, however, the more I think that he's stumbled onto a key insight: our hesitation about a big swing approach to projects is flawed. When you understand the true calculus of impressiveness, as I suspect Lieberman does, taking a small number of big swings becomes the only strategy that makes sense.
The Calculus of Imressiveness
At the core of the Lieberman calculus are the following two observations:
The time required to complete a project grows linearly with its impact on the community (e.g., doubling the impact of a project doubles the time required to complete it).
The impressiveness of a project grows super-linearly with its impact (e.g., doubling the impact of a project more than doubles its impressiveness).
If we stipulate these observations are more or less true, then Lieberman's project strategy makes sense. Put more technically, a direct corollary of the above assumptions is that the strategy that maximizes your impressiveness gained per time spent working, given a fixed budget of total time, is to go after the biggest impact projects you're capable of completing.
Let's plug in some sample values to make this intuition more concrete:
Let h be the hours required to finish a project, m be its impact score, and i be its impressiveness (these last two can be measured on some arbitrary scale).
For simplicity, assume h = m (a linear relationship) and i = m * m (a super-linear relationship).
Consider two projects. The first, which we can call project A, is ambitious and has an impact score of 4, while the second, project B, is less ambitious, and has an impact score of 2.
In this example, project A takes twice as long to complete as project B (4 hours versus 2 hours), but it yields 4 times the impressiveness (16 versus 4).
Project A, therefore, earns you twice as much impressiveness per time spent working as project B (16/4 = 4 versus 4/2 = 2). In other words, the more impressive project may have taken more time, but it yielded twice as much impressiveness per unit of time spent.
The values used in this example was arbitrary, but the general result will be consistent for any example where the two assumptions from above apply: the researcher who aims for more ambitious (and more time consuming) projects will end up more impressive than the researcher who aims for less ambitious (and less time consuming) projects, even if both have the exact same time budget to work with.
The secret to Lieberman's remarkability, therefore, is not that he outworked his peers, but instead, that he invested his time in a way that maximized his returns.
Beyond Academia
The point made above extends beyond academic publishing. In any field where the two assumptions hold — be it writing or launching a start-up — you're always better off putting your limited time toward the most ambitious projects you can complete. This observation, however, leads to an important caveat: what if you're unable to complete ambitious projects? A lot of researchers, for example, no matter how hard they work to score a cover article in Nature, will probably never realize that goal.
There are, it therefore seems, two lessons to be learned here:
To become remarkable, tackle the most ambitious projects you can complete.
To get the biggest returns, you need to also invest in increasing the maximum level of ambitiousness you can achieve.
Part of this latter goal is simply dedicating the deliberate practice required to become excellent. Lieberman has a joint PhD from Harvard and MIT, for example, where he studied under Eric Lander, one of the most inventive biologists of the last two decades. This no doubt raised the high-end of what he could achieve.
But I think there's more at play here. The closer I look at Lieberman's record, as well as the record of other remarkable achievers, the more I notice other, more subtle strategies at work. The type of strategies that allowed Lieberman to become a star when his classmates, with the exact same training, brainpower, and potential, fell short. The type of strategies that increased the ambitiousness of the projects he could complete, and therefore allowed him to better leverage the calculus of remarkability explained above.
It's too these strategies I want to turn our attention in my next post. Stay tuned…