The Grade Whisperer is an occasional feature in which I use the Study Hacks philosophy of do less, do better, and know why, to help students overcome their academic problems.
Eric's Literate Concerns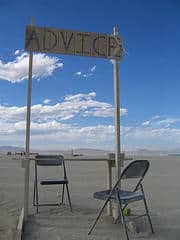 A reader named Eric recently sent me an interesting question. Next semester, he's facing an English Lit course.
"My concern is that the best grade I ever got in high school English was a 'B'," Eric explained.
He wanted some feedback on his plan for the course.
"I read about Q/E/C notetaking in the red book, but I'm not quite sure how to apply it to these courses," he said. "Would it help if this summer I picked some novels and practiced the technique? Or would it help me more to just read some novels for pleasure in preparation?"

From Clusters to Deep Thinking
I'm pleased to see a student planning ahead for an academic challenge. As I've said before, if you don't constantly question your study habits, you're in danger of falling into a rut.
When it comes to the specific challenge posed by English Lit, however, Eric needs some guidance. Sounds like a job for the grade whisperer.
Here was my advice:
For an English class, Q/E/C notes on your assignments won't help. Novels can't be reduced to an orderly collection of big ideas.
Instead, take zero notes on the novel as you read. That's right, none. Instead, focus on really paying attention and enjoying the intellectual experience. Location will really matter. Find some place quite and contemplative to do this work. Drink strong coffee.
You're not completely off the hook, however, when it comes to notetaking. During class discussion, take the best possible Q/E/C notes possible. Pay particular attention to the points made by the professor.
These notes won't come easy. The ideas discussed in an English lit class can be messy and complicated. My suggestion would be to set aside 1 -2 hours each week to wield the notebook method. Use it to help work through some of your thoughts on what you just read and what you heard in the most recent discussions.
When it comes time to write a paper — even if it is a small critical essay — expect to spend serious time with the notebook method before you even think about writing. I'm talking at least 3 – 5 hours.
This is a crucial point. For a course like English Lit, the ideas produced by deep thinking are your main preparatory currency. The time you spend contemplating, somewhere quiet, with your notebook, is equivalent to the time a pre-med spends memorizing triglycerides. If you don't invest some serious effort you cannot expect to do well.
With this mindset, however, our friend Eric should be prepared to turn in an A* effort while many of his frustrated classmates switch to a business major in shame.
(Photo by laughlin)