The Great Wait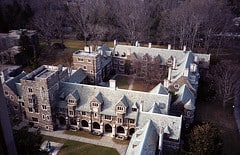 It's almost June. For high school seniors, this means two important milestones have passed: college admission decisions and graduation. You know where you're headed next year and have nothing to do until you get there.
In this post, I want to offer you some friendly advice for how to best use this final summer to prepare for the new world you'll soon face. If you want my general thoughts on how you should tackle college, read last year's open letter to students awaiting their admissions decisions. Today, by contrast, I want to get more specific.
Below I've listed three suggestions for how to prepare for college …

Suggestion #1: Refuse to choose a major.
I know, your instinct is to immediately nail down the path you'll follow at college. Did you like math class? Declare your intention to become a math major! Were you good in science? Then become a bio major with the the plan of going to grad school! Are you smart and ambitious, but can't identify a specific academic interest? Go pre-med!
And so on…
I'm letting you off the hook. I want you to refuse to even consider your major until after your freshman year of college. When your aunts and uncles and family friends ask you this summer what you will study, proudly reveal your pledge of refusal.
Here's the thing, before you arrive on campus and take some classes and learn about the college world, you'll have no idea what options you actually have. Therefore, a choice at this point is essentially random. This has a big chance of coming back to haunt to you when you realize, down the line, that it was essentially arbitrary — a reality which can propel you into burnout.
Suggestion #2: Read about big ideas.
Dedicate significant portions of this summer to exposing yourself to smart people proposing, arguing, and defending big, intellectual ideas. Subscribe to the Arts & Letters Daily feed. Read Harpers and The Atlantic. Haunt the non-fiction tables at Barnes & Nobles, then pick up what looks interesting and spend serious time reading your selections at the in-store Starbucks.
Students that arrive at college fired up by the power of big ideas tend to thrive. This provides the filter through which they encounter their academic training. Reading assignments stop becoming chores and turn, instead, into sources of inspiration. Papers turn from dreaded foe into opportunities to express something new. These students seek out interesting speakers on campus and get involved with interesting activities. They also tend to produce A* work which generates huge advantages.
If you start a big idea addiction this summer, you can set the tone for your entire college career to follow.
Suggestion #3: Learn to drink like a normal person.
My drinking advice always seems to upset some portion of my audience, but I have to remain honest. If you arrive at college completely obsessed with the novelty of unrestricted alcohol consumption, you'll likely make a fool of yourself — and perhaps something even worse.
Unless you plan to go dry your entire college career, sneak outside of your parents watchful gaze this summer and acquaint yourself with booze. Kill the novelty factor. Learn how to drink enough that you're having fun, but no so much that you're booting like a fountain. Wield this experience to blunt that edginess, possessed by so many 17-year-olds, that makes access to beer feel like the world's most important possible endeavor.
If you're already a drinker, learn how to stop doing it like an idiot. Again, I'm going to get yelled at for this, but if you look old, try to sneak into a bar — there's no better way to learn some adult decorum surrounding your consumption.
Trust me, 22-year-old you will thank 18-year-old you for figuring out how to handle alcohol with some grace before your arrival at your first, packed frat party. The frat brothers at that party, by contrast, are probably hoping you'll ignore this advice, as it eliminates their preferred entertainment — drunken freshmen fools.
(Photo by Joe Shlabotnik)