The Grade Whisperer is an occasional feature in which I use the Study Hacks philosophy of do less, do better, and know why, to help students overcome their academic problems.
The Parent Trap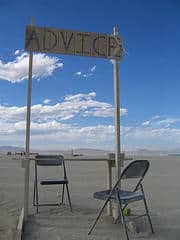 I recently received an e-mail from a student whom I'll call Karen. She is a sophomore at a top-20 university and is struggling with her parents' ambitious plans for her college career.
As Karen explained: "Deep down my parents just want to make sure I have a better life than they do."
But their relentless pressure for Karen to become a doctor ("they argue that doctors have stable jobs") eventually became too much to handle.
"Second semester of my freshman year I put my foot down," Karen recalls. "After a tearful and hurtful argument they finally relented and said I should try economics instead."
But this compromise hasn't gone well.
"I'm struggling…because I'm simply not interested in my economics courses," Karen told me.  "My history of human rights course, however, is absolutely fascinating and actually made me seriously consider going to law school and maybe getting an MPA in Public Affairs, or even going to business school."
Karen reduced her woes to three questions:
"Should I stay at my school? And if so, should I change my major?
"Should I transfer?"
"Should I take a gap semester or year off?"
"I'm just sick of trying to be someone I'm not, but I have this deep-seated fear of being a starving person on the street if I follow my passions."
Sounds like a job for the Grade Whisperer…
Major Nonsense
I receive a lot of e-mail from students wondering whether they should change their major.
I almost always give the same answer: "no."
For one thing, I find that undergraduates overestimate the importance of their major for finding a job. As I've argued before, unless you want to be an engineer or go to graduate school, it's often more important to demonstrate the capability to do superstar-caliber work than it is to build specific knowledge.
Furthermore, I also tend to dismiss the complaint that a major isn't your "passion." As I recently explained, I think passions are constructed through the process of mastery, not discovered. Few 19-year-olds actually have a real passion for an academic subject.
As I often tell worried students to soothe their anxiety: "There's no such thing as the right major for you. So chill out."
Karen's issue, however, was something different…
Though it's true that there's no right major for most students, there are, as I've argued before, wrong reasons.
Specifically, we know from decades of research on motivation that if you feel extrinsic pressure to do something, you're more likely to develop mental barriers. In college students this often manifests itself as deep procrastination.
It was this factor that made Karen one of the few students to hear me say "changing your major might not be such a bad idea…"
My Advice
Here's what I told Karen:
Stay at your university.
Don't take a gap year.
Do switch your major. It doesn't matter what you switch to, so long as it's your choice. Sell this switch to your practical-minded parents by emphasizing your potential interest in law or business school, and noting that the admissions staffs of these programs are tired of the same old political science and business majors. Studying something like history, English, or philosophy can actually improve your chances of getting into a prestigious school.
Keep a light schedule and focus your energy on becoming an A* student, as this is what will open the most doors to you after graduation (and end up making your parents proud in the long run).
To summarize, I supported Karen's belief that her force-fed major was an issue. But I thought the bulk of her remedies — taking a gap year, switching universities — were too drastic. By simply taking back control of what she's studying, then turning her focus to the more important question of how she's studying it, the stresses and anxieties that vexed her will hopefully start to slip away.