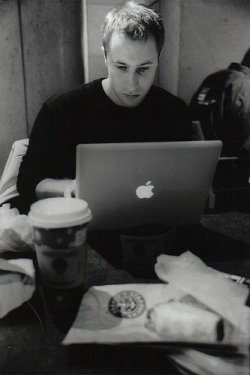 The Courage Fallacy
In 2005, Lisa Feuer quit her marketing job. She had held this same position throughout her 30s before deciding, at the age of 38, that it was time for something different.
As the New York Times reported in an article from last summer, she wanted the same independence and flexibility that her ex-husband, an entrepreneur, enjoyed. Bolstered by this new resolve, Lisa invested in a $4000 yoga instruction course and started Karma Kids Yoga — a yoga practice focused on young children and pregnant women.
Lisa's story provides a pristine example of what I call the choice-centric approach to building an interesting life. This philosophy emphasizes the importance of choosing better work. Having the courage to leave your boring but dangerously comfortable job — to borrow a phrase from Tim Ferriss — and instead follow your "passion," has become the treasure map guiding this philosophy's adherents.
But there's a problem: the endings are not always so happy…
The Economics of Remarkable Lives
As the recession hit, Lisa's business struggled. One of the gyms where she taught closed. Two classes offered at a local public high school were dropped due to under-enrollment. The demand for private lessons diminished.
In 2009, she's on track to make on $15,000 — not nearly enough to cover her expenses.
This, of course, is the problem with the choice-centric approach to life: it assumes that a much better job is out there waiting for you. The reality, however, is often more Darwinian: much better jobs are out there, but they're only available to people with much better skills than most of their peers.
As I've argued before, the traits that make a remarkable life remarkable — flexibility, engagement, recognition, and reward — are highly desirable. Therefore, to land a job (or start a business) that returns these rewards, you must have a skill to offer that's both rare and valuable.
It's simple economics.
Lisa didn't have a skill that was rare or valuable. She did receive professional Yoga training, but the barrier to entry for this training was the ability to write a tuition check and take a few weeks worth of classes. This skill wasn't rare or valuable enough to guarantee her the traits she admired in the lives of successful entrepreneurs, and as soon as the economy hiccuped she experienced this reality.
Her courage to follow her "passion" was not enough, in isolation, to improve her life.
The Value of Nerves
This brings me back to the (perhaps) controversial title of this post. If you're in a job that's boring but tolerable, and you feel nervous about quitting, you might consider trusting this instinct. Your mind might be honing in on the economic truth that you don't have a skill rare and valuable enough to earn you a substantially better deal somewhere else. Because of this, your mind understandably reacts to your career day dreams with jitters.
On the other hand, those who have built up highly desirable skills rarely feel much nervousness about the prospect of switching jobs. They've probably had other job offers, or can name a half-a-dozen clients that would pay handsomely for their consulting services.
For example…
Tens of thousands of bored cubicle dwellers fantasize about building their own companies. (Writers have built lucrative careers around pitching this message.) Most of these workers, however, are nervous about this idea due to the very real possibility that their business ventures will fold, leaving them, like Lisa, broke, without health insurance, and worse off than before.
By contrast, earlier this year I received a call from a head hunter trying to recruit me to work at a Manhattan-based start-up incubator that would, in essence, pay me to think up and try out business ideas. (Jeff Bezos was in a similar position at D.E. Shaw when he came up with the idea for Amazon.com.)
My point is that if I wanted to start my own company (which I don't), I wouldn't feel nervous. The reason is clear: By earning a PhD in computer science at MIT I developed a skill that's rare and valuable to this particular economic segment. The market has made this value clear to me; ergo, no nerves.
The Hard Focus-Centric Approach
Though I'm not nervous about the idea of starting my own company, I am, at this point in my career, nervous about the path that most interests me: becoming a professor at a quality research university.
Instead of paralyzing me, however, these nerves provide wonderful clarity. My goal during my postdoc years now centers on eliminating this nervousness. To do so, I need to make myself unambiguously one of the top candidates in the computer science academic job market. This, in turn, requires incredibly high-quality research that promises to push my research sub-fields forward. This specific goal has trickled down into concrete changes in my day to day work habits. Most notably, I've recently rebuilt my schedule around hard focus, and I spend much more time reading the research literature and thinking about the long-term direction of my short-term work.
In other words, nervousness can provide more than just sober-minded warning. It can also help guide you in your efforts to build a remarkable life. Instead of grappling with vague worry — "Am I stupid for wanting to try this new career path?" — you can focus your energy toward a clear metric: building up a valuable skill until you've eliminated this nervousness.
Once your stomach stops churning about your occupational day dreams, the time is right to make them a reality.