Deep Thwings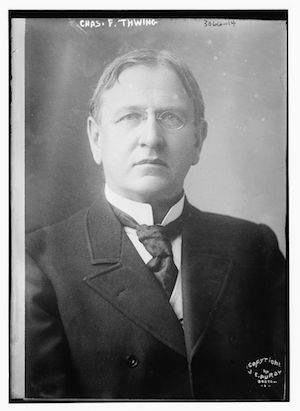 Charles Franklin Thwing is a largely forgotten but impressive figure from the early twentieth century. He graduated Harvard in the 1870s, entered seminary, became a pastor in Massachusetts, then an academic, eventually ending up president of Western Reserve University.
He came to my attention because of a book he wrote in 1912 titled, Letters from a Father to his Son Entering College. In this insightful volume is the following wisdom:
"To save time, take time in large pieces. Do not cut time up into bits…The mind is like a locomotive. It requires time for getting under headway. Under headway it makes its own steam. Progress gives force as force makes progress. Do not slow down as long as you run well and without undue waste. Take advantage of momentum. Prolonged thinking leads to profound thinking."
Thwing, it seems, was a disciple of deep work a century before the term was coined. Good ideas, I suppose, are timeless.
#####
Hat Tip to Morry, who turns 80 next month, and who brought this book to my attention. Morry, inspired by Thwing, has followed this advice for decades by deploying 4 hour stretches of deep work to get important things done.