A Deep Diversion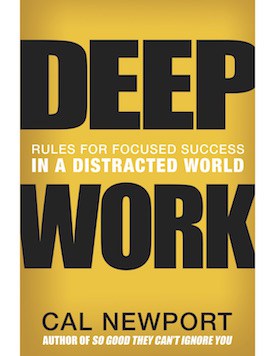 I wanted to share some brief updates about how my new book, Deep Work, is faring since its release a couple weeks ago. It seems to have hit a nerve. This excites me — not just because it's good news for my book, but because I think it points to a bigger shift in our cultural conversation. People seem increasingly ready to move past self-deprecating humor about how they check their phone too much, and instead seek concrete changes that will improve their cognitive life.
Anyway, here are some highlights from the book launch:
If you want to learn more, read my original post about the book launch. In addition, my publisher has posted two long excerpts. The first is about how deep work helps make you massively more productive and the second tackles the inanity of open offices.
I am, of course, most grateful for your support here over the years as I developed these ideas. I can't thank you enough.
Now back to our regularly scheduled programming…