From Good to Great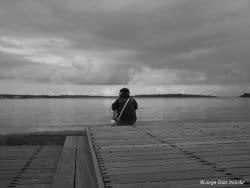 Unlike many hacks you read here, the strategy I want to describe today is not designed to reduce your study time (though I don't think it will add much to your schedule either). Instead, its purpose is to help you transform from a good student into an exceptional student.
It starts with the simplest possible tools…pen and paper.

The Notebook Method
This method applies to the following academic situations, among others…
Writing an essay or paper.
Working on a problem set or technical take home exam.
Tackling a difficult book or reading assignment.
Designing a project for a computer science or engineering class.
The idea is simple…
Buy a sturdy college-ruled notebook dedicated to the relevant class. (I use the 100 page, 1 subject, college-ruled Stasher by Roaring Spring, but many people also swear by the Black n' Red.)
Buy a good pen. (Nothing beats a black uniball micro 0.5mm.)
Take your notebook and pen and go to the most relaxing, meditative, non-distracting place possible. The deep stacks of the library is okay. Hiking 30 minutes into the woods or onto the dunes overlooking a windswept springtime beach is even better.
Spend 1 – 3 hours working out your thinking on the task at hand in the notebook. Spend the last 20 minutes carefully summarizing your results on a clean page that you mark with the date and a title.
For example, here is a snapshot from a page of my PhD thesis notebook: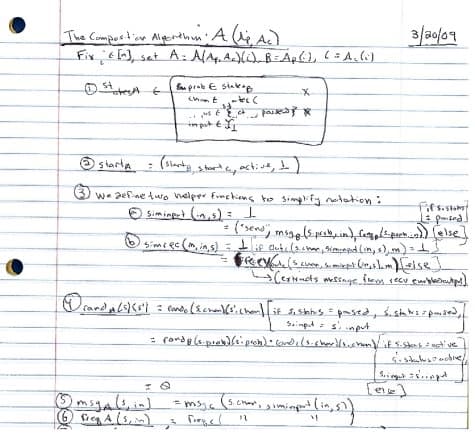 Preceding this summary page in the notebook is another few pages of rougher notes, also from today, on which I was trying to work through the tricky details of these same ideas. This final page details the polished result of this thinking. I needed to get this right, and a long afternoon with my notebook was the only way I could coax what I needed from my mind.
Inside the Method
In an age of distraction, the notebook method produces a rare commodity: high-quality thinking — the type of thinking that can make a student into a star.
Its power sources from the following truths…
Writing down your thoughts forces you to clarify what you're thinking and confront ambiguities or inconsistencies. It's hard work! You'll probably feel painful resistance the first few times you try this method, but you must persevere. Eventually you gain familiarity with the novel sensation of deep thinking.
You can't check e-mail using a spiral-bound notebook. You also can't update your Facebook profile or tweet about your YouTube channel. If you're high up in the library stacks, or, better yet, in the woods or on the beach, it's just you and your notebook. Eventually your urge toward distraction will give way.
Paper facilitates creative thinking. You can draw arrows, and circle concepts, and sketch structures. Something about a good ballpoint scraping across a thick-grained paper stock unlocks areas of your mind that tend to hibernate when you're slumped over your laptop in a crowded study lounge.
This method applies anywhere that requires deep creative thinking. Use it to figure out your argument for an English course, or to master organic chemistry equations, or to deduce why, exactly, that Nietzsche book frustrated you so much on your first read through.
Regardless of how you apply this method, its result will be the same. It takes you out of student survival mode and helps you down the path toward mastering the increasingly lost art of good, hard, deep thinking.
Related Posts
(Photo by Absolut1)