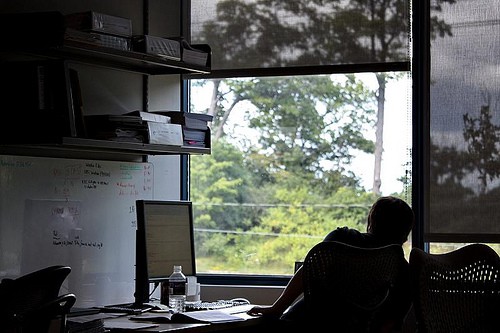 The Insult of Simplicity
There are many reasons why I don't like the advice to "follow your passion."
One reason I haven't mentioned much recently is that I find its premise insultingly simplistic.
It would be nice if we were all born with a clear preexisting passion.
It would also be nice if simply matching your job to a topic you liked was all it took to generate a meaningful career.
But reality is more nuanced (as we should expect, given the rareness and desirability of the goal being pursued here).
In an effort to be more positive than negative, however, I thought it might be useful to provide a brief case study that sketches a more realistic image of how people end up with work that matters.
This case study comes from a reader whom I'll call Peter…
Peter's Tale
After graduating college, Peter, like many recent graduates, had no clear preexisting passion to guide him. So, like many recent graduates, he did something expected: he applied to law school.
At law school, Peter began to build useful skills. Among other things, he learned to write precisely, think analytically, and more specifically, to unwind legal statutes.
During his summers he interned at various organization. One of these internships was with a large NGO. He learned that the work of this organization (it's a non-profit you've heard of before) resonated with him. Of equal importance, he learned that one of the divisions in this organization had need of lawyers.
So Peter worked hard during the internship and the remainder of law school (he claimed that his now battered copy of Straight-A helped him through this period).
This performance earned him a job offer from the NGO. He's excited for the position which he is just about to begin.
It's too early to tell whether this particular career direction will continue to blossom into a true passion for Peter, but there's a good chance it will (I've heard this same opening act many times before).
What strikes me about this narrative is that it complicates the simple tropes advanced by the Passionistas.
Peter, for example, described his journey as follows:
"It really was a matter of following the path where I could build on my existing skills and had the potential to move towards some kind of mastery."
He then added:
"When others ask for advice, they seem to want to hear the narrative about how I followed my passion, but that would be an enormous oversimplification."
When it comes to the important task of build a meaningful career, I think we need to hear more from the Peters of the world, and less oversimplified cheer-leading.
###
Administrative Note: I did a talk for Jenny Blake's Speak Like a Pro virtual conference. If you're interested in public speaking you might find the conference interesting. I believe it begins today (Monday). Check it out…
(Photo by The Other Dan)