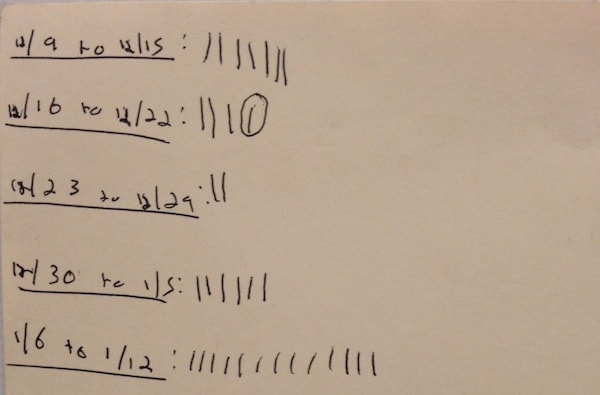 Shallow September
I track my deep work hours using a weekly tally, so I have a good sense of how my commitment to depth varies over time. A trend I've noticed is that my deep work rate hits a low point around this time of year.
The obvious explanation is that the start of the fall semester adds extra time constraints. But I don't think that's the whole story. My deep work tends to increase as the fall continues, even though my teaching commitments also increase during this period (i.e., once there are problem sets and exams to grade).
In thinking about this mystery I've begun to better understand a crucial but often ignored aspect of working deeply on important things: the necessity of clarity.
My Research Cycle
In my life as a distributed algorithm researcher, I experience a rapid-fire set of important research deadlines that begin in the late winter and end mid summer. If all goes well, this period clears out my research larder, leaving me, by mid-July, ready to start a new research cycle.
This reality explains why my deep work dips around this period: it's not clear what I should be working on.
When I have a well-developed problem, and I have a sense of what the solution should look like, and I can feel that my attacks are getting closer to the core: it's easy to obsessively accumulate hour after hour of deep thinking.
By contrast, when I have only a hazy idea for a type of problem that might be interesting, but am not sure exactly how to define it or if it's something I can solve: it's easy to push aside deep hours for other more concrete concerns.
In the fall, in other words, I'm rich in haziness and poor in clarity.
There's nothing wrong with this. All projects require this haziness stage. High output rates, therefore, will force you into this stage frequently.
Prioritizing Clarity
The conclusion I've been developing is that I need to think more systematically about minimizing the time to get from haziness to the level of clarity that accelerates depth. In more detail, when in a period of haziness, I'm becoming increasingly comfortable with the idea that much of the time that I might usually spend on traditional deep work (concentrating without distraction on a well-defined problem) will instead be spent trying to clarify hazy ideas to a point where such depth is possible.
In my particular line of work, the following activities seem to help:
Agree to give a talk on the topic.
Go visit (or invite to visit) a collaborator to bounce around the idea.
Setup a (bounded) series of meetings of phone calls to see if the idea can be kneaded into something pliable.
Read, read, read related work and capture the notes in an annotated bib (a tip that has arguably doubled my research productivity)
And finally, once ready, spend a half day or so trying to write up a problem document that captures a clear description of the problem, a collection of simple results, and a list of some next results that seems promising and tractable (this is like a business plan for a research problem, and usually something I like to develop before committing to long term time investment).
The specifics of these activities will differ depending on your job. But the big idea here is that by dedicating some deep work time to seeking project clarity (when projects are hazy), you'll end up with more quality results in the long run.