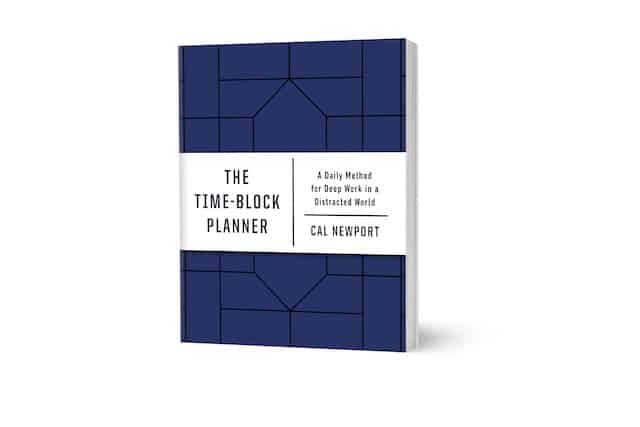 I'm excited to announce that my new Time-Block Planner is now available everywhere books are sold online.
I first described my time blocking practice on this blog back in 2013. The idea began to gain traction after I popularized it in my 2016 book, Deep Work. In the years since, it's been featured in publications such as the New York Times, the New Yorker, Fast Company, Entrepreneur, and Lifehacker.
I often claim time blocking is the secret to my productivity. In my experience, time blockers accomplish roughly twice as much work per week as compared to those who use more reactive methods, and enjoy a much clearer separation between work and non-work time, significantly reducing professional stress and anxiety.
Now for the first time, this system has been captured in a daily planner that makes it easy for anyone to implement these ideas in their own professional life. (To learn more about the system and exactly how the planner works, check out the dedicated site I launched at TimeBlockPlanner.com.)
There are two reasons why I decided to publish my own planner:
The first was convenience. I was tired of hand-formatting blank notebooks. I was also frustrated by paper quality issues and the lack of page marker ribbons that help quickly identify the current page. This planner solves those problems, reducing the friction required to implement daily planning.
The second, and more important, was motivational. It's one thing to read about a productivity system, but it's another thing to actually invest in and own an artifact that's dedicated to implementing that system. I want more people to time block. Buying this planner signals to yourself that you're a time blocker. It's also an attractive aesthetic object, with nice paper and detailing. It's a pleasure to use, especially with a micro-ball liquid ink pen (like this one). These factors might sound small, but they make a big difference when it comes to the challenge of consistently overcoming your mental resistance to stay organized. I think of the planner like a gym membership or Peleton subscription for your time and attention.
To find our more about the planner check out the dedicated site. You can buy the planner at the standard places: Amazon, Barnes & Noble, Powells, Hudson Booksellers, Books-a-Million, etc., and for readers in the UK, it's available at Amazon UK.