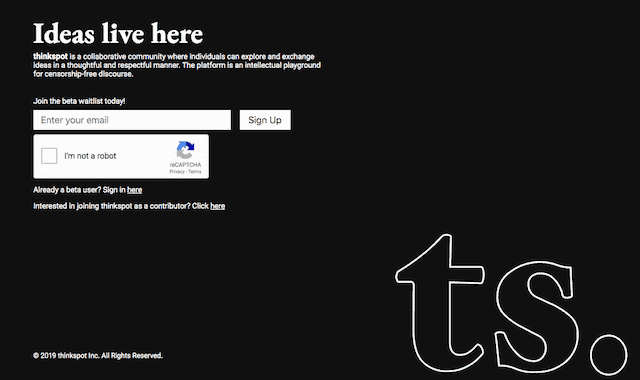 Last month, Jordan Peterson announced he was launching his own social media platform called Thinkspot. Details of the planned service are still sketchy, but it seems like it will include some novel features, such as subscription fees that support the content creators, and a commenting system meant to encourage deeper discussion.
Much of the early press coverage of Thinkspot has focused on the controversies surrounding Peterson and the tumultuous circumstances that led to the service's creation.
To me, however, there's a more interesting story lurking. What matters is not why Thinkspot exists, or even whether it will succeed, but instead the larger trend it represents.
The first generation of social media companies adopted a mass audience model: their value proposition depended on gathering the largest possible user base. You joined Facebook, in part, because of the promise that many people you already know were members, and you browsed YouTube because of the promise that it could offer an endless library of clips.
This model naturally supports monopoly and suppresses innovation. It's conventional wisdom in Silicon Valley that a big reason why there have been no major social media platforms launched since 2011 is that it's impossible for a new entrant to compete with the value produced by the massive audiences of the existing sites.
Why would I join a network with 10,000 users when one already exists with over 1,000,000,000?
As Thinkspot demonstrates, however, this mass audience strategy is starting to fray. As users become more familiar with both the joys and depredations of the attention economy, they're increasingly shifting toward a long tail model for the social internet.
In this new model, users don't want to connect with everyone they already know, but instead want to connect with small groups they find really interesting. Similarly, they don't need access to massive libraries of low-quality content, but instead want access to curated collections covering topics they really care about.
The old model requires massive audiences before a given platform becomes useful. The new model does not.
If you're deeply committed to the Intellectual Dark Web, for example, then Thinkspot will probably return you much more value than Instagram or Twitter, even though its audience size is a minuscule fraction of these giants.
Similar micro-platforms could be created for almost any other targeted interest that you can imagine, from paleo enthusiasts, to the FIRE community, to cricket fans, to Christian parents.
(See my recent New Yorker article on indie social media for more on some of the new tools that simplify the task of creating these new platforms.)
Put another way: In the world of long tail social media, network effects are much less important than interesting networks.
The internet, of course, has long been home to small communities dedicated to niche topics, organizing themselves through loose collections of websites, blogs, and existing social platforms.
The key insight of long tail social media — as epitomized by Thinkspot — is that there's value in creating more unified and optimized online homes for these small communities: reducing the friction required for interaction and increasing its quality; yet also sidestepping the mass audience model's imperative to grow your service as big as possible.
I'm not sure if this long tail model will successfully supplant the mass audience strategy that dominates today (any time there are hundreds of billions of dollars at stake, disruption is complicated). I hope, however, that it does, as it would almost certainly increase the value people get out of the internet, while helping to reduce some of the worst side-effects of our current dependence on rapacious platform monopolies.