A New Year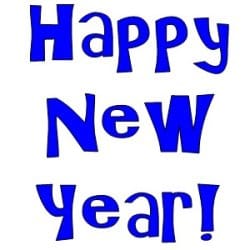 Making New Year resolutions proves a tricky business. We all know that setting too many goals is a recipe for disappointment, so it's important to choose a small number of changes that will have the maximum impact.
In this post I describe three simple resolutions that I've learned from experience to be incredibly effective. If you're unsure where to direct your resolve in 2009, forget the cliched crap about going to the gym more or "studying harder." Give these three habits a try — they'll completely transform your entire student experience.
Resolution #1: Commit to Full Capture
It's the oldest trick in the proverbial productivity book, but it's also the most essential. Without it, you simply cannot eliminate copious stress from your life. I'm talking, of course, about capturing every task, date, and deadline in a trusted system that you review regularly.

Let me make this simple for you:
Keep a master calendar and a master to-do list on your computer. I don't care what software you use.
Buy a two dollar small spiral bound notebook that you carry in your pocket everywhere you go.
Whenever a task, date, or deadline pops into view — for example, a professor mentions a test date or you read an e-mail that requires action — jot it down in your notebook.
Every morning, do two things: (1) transfer new items from your notebook onto your computerized list and calendar; (2) review your lists and calendar.
It's simple. I've talked about it before in my book and in these two posts, among other places, and it's at the core of David Allen's wildly successful GTD philosophy. There's a reason why I keep bringing it up: without capture you will be stressed. Period. If you don't already execute this strategy flawlessly, resolve to add it to your daily routine ASAP.
Resolution #2: Construct Assignment Folders
For every exam and paper set aside a fresh new manila file folder. While reviewing for the exam or researching and writing the paper, keep all of the relevant materials in this folder. It's the one stop shop for everything relevant to this particular assignment.
From an organizational perspective, this makes life easier. If you want to study or write, you just have to grab a single folder to take with you to your favorite work location.
But there's more…
At least two weeks before the deadline, you need to write two things on the outside of the folder. First, a to-do list of the specific actionable tasks you need to complete to finish preparing or writing. No vague nonsense like "study chapter 1" or "research," it has to be deadly precise. What specific activity are you going to do? Second, add a schedule that assigns these tasks to specific days.
In other words, the folder habit forces you to construct a study plan and schedule for every exam and paper. Furthermore, this plan and schedule will be in an easy to find and reference place — your folder. You can't do any work on the assignment without encountering this advance planning.
There are two types of students in the world, those who study and write according to scheduled plans and those who just head to the library the day before with a vague ambition to "get some work done." The former are happy, the latter don't sleep much.
This habit is a simple way to shift over to the happy crowd…
Resolution #3: Practice the Retreating Deadline Method
Last September I proposed a provocative study habit: finish your studying and paper writing at least a day before the deadline. There were two strong motivations:
First, no matter how organized you are, if you're studying or working on a paper the day before a deadline, you will feel stress. Even if you're sure you'll get it done, there's always that voice in the background whispering: "what if you run out of time?"
By finishing a day early, you eliminate ever having to battle this voice. The result: huge stress reductions.
The second benefit is that it gives you a sense of control. You realize: "hey, I decide when I work, not the assignments." It's a simple change, but the impact is humongous. Self-determination is the source of basically everything good from a psychological perspective.
I don't think this strategy gets enough attention here on Study Hacks. It captures the essence of everything I preach: take control of your own schedule, fight conventional wisdom, conform your work to your own comfort.
Take this method seriously. I don't want to hear your whining about how you could never do it because you're such a procrastinator. (See the original article for my retort to that problem.) Suck it up. Get it done. You'll never be the same again.
(Graphic by Dru Bloomfield)