Think Different
Our friend Ben Casnocha recently launched a new web venture called Think Different TV. Inspired by Bloggingheads.tv, it features split-screen videos of two people having a conversation. Bloggingheads focuses on politics. Think Different TV, by contrast, covers issues more near to the heart of us Study Hackers, including entrepreneurship, education, and big ideas.
I was honored to chat with Ben in the inaugural episode, and I even wore my glasses to make myself look much smarter than I actually am. In this episode we discuss my third book, dissect the difference between unusual and impressive, and argue about the skills needed to be a successful student (and whether these matter in the "real world").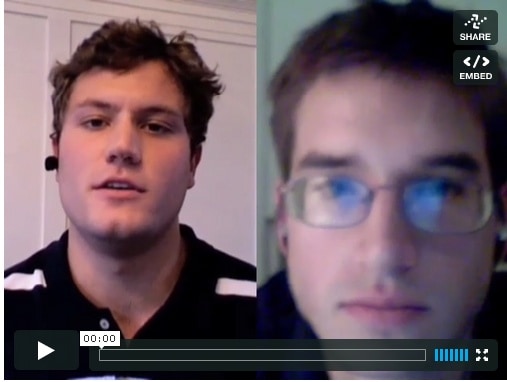 To access the video, you can go to the Think Different web site or straight to Vimeo where it's hosted.
In case you want to jump around, the conversation goes like this:
0:54 – Cal tells us what his third book is about
3:33 – Ben says people confuse "mysterious" with "impressive"
7:49 – Difference between being an impressive person vs. an interesting person
15:10 – Cal talks about the "confounding effect" that distorts our sense of interestingness since we don't understand how something is done
16:37 – Attributing someone else's success to "magic" relieves yourself of responsibility / guilt?
20:46 – What's the difference between school and the "real world"? What skill sets are transferable?
27:26 – To succeed as as student requires some degree of entrepreneurship/innovation
Keep an eye on Think Different. I have a feeling it will evolve into a great source of innovative inspiration.