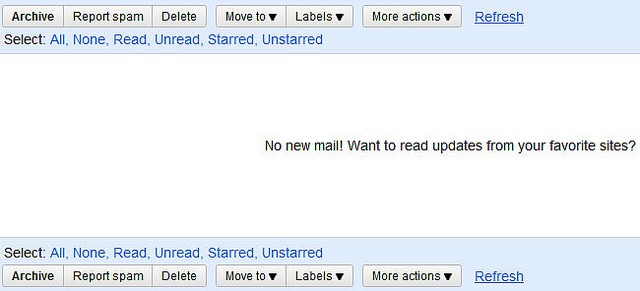 Two Tales of Empty Inboxes
I have a friend who runs an investor-backed online education company. He recently made an interesting change to his email setup. When you send a message to his normal address, you now get back an autoresponder that reads (in part):
"I appreciate you reaching out. I'm currently in hermit-mode creating as much value as I can for all of our stakeholders and having fun seeing if I can eliminate email from my life…Of course, if this is important, we're here to help! Just email <address of a virtual personal assistant> and we'll use our evolving email-free strategy to communicate."
This extra step of re-sending your message to the assistant should add, at most, 10 extra seconds to the process of emailing this individual. Rationally speaking, therefore, it should have minimal impact on the number of messages that make it to my friend.
But this is not what happened.
As he reported to me recently, this additional step has "massively" reduced the amount of communication he receives.
Earlier this week, a reader wrote me with a similar tale. A computer programmer by trade, he setup a custom system that responds to incoming emails with a web form in which the sender can describe his or her purpose and needs in a series of text boxes.
Again, the extra effort of re-entering this information is minimal.
But the effect was significant.
His incoming message count reduced by a factor of 40. (He measured.)
The Danger of Zero
These stories caught my attention because they underscore a point I've seen gain traction recently: one of the core contributors to email's nastiest impacts is its zero marginal cost.
Put another way, once we all made the necessary efforts to get setup with this technology, the cost of sending a message to someone became effectively zero.
This is important because we know from a variety of different disciplines that when friction in a system minimizes below a certain threshold, unpredictable and non-linear dynamics often follow.
I'm increasingly convinced that a similar effect is at play with email. Look at my above two examples: when even a small amount of extra friction was injected into the picture, email overwhelm essentially vanished.
The natural follow-up question to ask is how such friction could be added in a more general way. For example:
A good friend of mine (who is a Silicon Valley venture capitalist) recently quipped to me that if he could charge people a small amount to send him messages, his life would likely significantly improve.
Under the assumption that micro-payments are too complicated to engineer, consider instead a system that replies to any incoming message with a url and the note: "one hour from now this web site will list an address you can use to contact me".
Or, consider a system where a potential correspondent emails a triage address with the high-level purpose of their communication in the subject line, and either you or an assistant eventually responds with the appropriate channel to which to send the full message (if any).
I'm just brainstorming, but the general point is that almost any addition of friction to our digital communication systems might generate massive benefits — so tweaks of this type are worth considering.
(Though a necessary precondition would be overcoming our misguided obsession with "convenience" above all else.)
Bottom Line
It's easy to lament that the "email problem" is intractable. But these stories give me hope, as they indicate that perhaps communication overload is not necessarily fundamental in a society with digital networks, but is potentially instead just a side effect of the particular and somewhat arbitrary way in which the tools we currently use are configured.
(Image by Bryan Alexander)