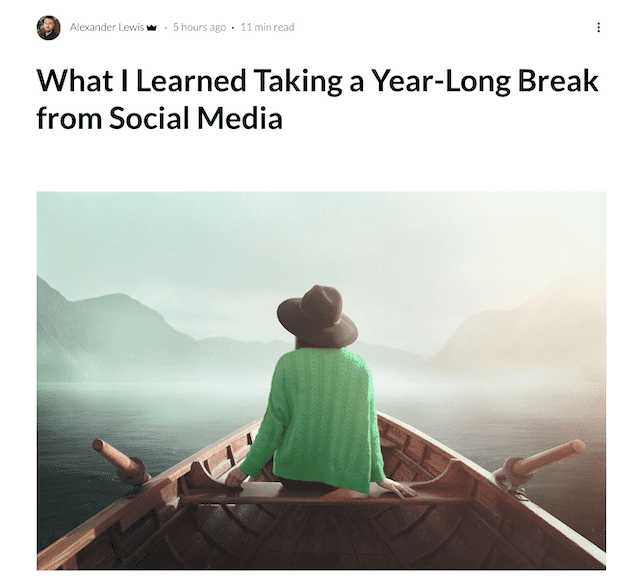 A reader named Alexander recently pointed me toward an essay he wrote about his experiment avoiding social media for all of 2021. What caught my attention is the fact that Alexander runs an online business as a freelance copywriter. I frequently hear from people who are exhausted by the frenetic, anxiety-inducing churn of social media, but are concerned that without their participation on these services their professional lives will disintegrate. With this in mind, I thought it might be useful to share some highlights from Alexander's detailed breakdown about what exactly happened to his livelihood when he stepped away from his social accounts for twelve months.
I'll start with the punchline: Even though Alexander used to make regular use of LinkedIn, Facebook, Instagram, and Twitter to promote and grow his business, his year without these services did not bankrupt him. Indeed, as he reports, both his business and his email newsletter subscribers grew by 50% during this period. How did clients find him? Google searches, referrals, and repeat work.
Alexander also notes an increase in his productivity. "Social media became my mental crutch when faced with a hard task," he writes, describing the period before his experiment. "When I couldn't think of how to write the next sentence or headline, my default action was to open another tab and scroll social media." When the option for these easy mental escapes was eliminated, he found himself producing better work:
"It's safe to say that [my output during my year without social media] is far more writing than I've done in past years, despite the fact that I had more client work than ever. Also, I would venture to guess that my quality went up a bit. One of the downsides of social media is ease of publishing. There are no gatekeepers stopping me from publishing lazy work."
Then there were the non-professional benefits generated by Alexander's experiment:
"Twitter, Facebook, and Instagram caused me more anxiety and stress than I even realized. The constant opinionated noise and comparison on these platforms is hard to overstate."
He was able to redirect this energy, previously dissipated through endless scrolling, into more meaningful leisure pursuits:
"I discovered (and rediscovered) some outdoor hobbies this year. It's hard to know whether this is correlation or causation, but I joined a couple adventure races, played many tennis matches, and easily walked and ran at least 500 – 700 miles last year, averaging a little more than 10 miles per week."
It would be dishonest to imply that social media has no professional benefits. Alexander admits, for example, that his success without these services was supported by the fact that he was already established. "This would have been a different experiment had I given up social media during my first year," he writes.
But in the end, Alexander decides that he had no interest in returning to his past habit of constant social media engagement. In true digital minimalist style, he decided, after his experiment completed, to carefully reintroduce LinkedIn, which he'll use as a publishing platform for his original articles, while remaining logged off from the other services that used to command his attention.
"The big takeaway of this year is that I love life without social media," Alexander concludes. I can't help but suspect that many others might feel the same, given a chance to experience what such a life is really like.
#####
Related note: if you decided to participate in my No Twitter Challenge, announced late last month, please send me updates to [email protected] with "No Twitter Challenge" in the subject line. I want to hear how it goes for you!