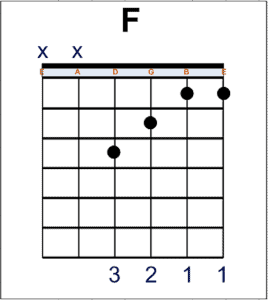 The Deliberate Strummer
The first step in learning guitar is mastering the major chords. As any new player will tell you, it's not difficult to learn where your fingers are supposed to go for each chord, the real challenge is training your finger muscles to actually hit the desired positions cleanly.
Of all the major chords, this challenge is most pronounced for the F (pictured above), which not only keeps your fingers devilishly close together on the fretboard, but also requires you to contort your index finger to somehow flatten two strings at once.
There's no shortcut to learning how to play an F: you have to force your hand into the cramped position, again and again, picking up the speed as soon as you become too comfortable.
Each of these attempts (literally) strains you. This is not Guitar Hero: it's uncomfortable and not at all fun.
But if you stick with it, your muscle memory improves, and you get faster and cleaner. Then, one day, you're able to play House of the Rising Sun.
I'm bringing this up because learning to play the F chord provides a perfect case study of deliberate practice. It's a clear goal that requires you to stretch your current ability and provides immediate and clear feedback on your progress. It's also a goal that provides tangible rewards if achieved.
Accordingly, it provides a nice analogy when assessing your own work habits. When surveying how you spend your time, it helps, in other words, to ask "where's my F chord?"
To ask this question is to ask where in your schedule is the time dedicated to straining yourself (uncomfortably) to master something that you can't do now but would be valuable if you could.
This type of deliberate effort is a pain. It's why most people give up learning to play the guitar (and why my skill level plateaued pretty quickly when I was younger*).
It's also why so many knowledge workers end up glorified e-mail sorters, nervous at every round of layoffs.
But here's the thing (if you'll excuse the abuse of this analogy): if you're not willing to strain your fingers, you'll never end up the professional equivalent of the cool guy, surrounded by girls, strumming soulfully to House of the Rising Sun.
###
* See Part 2 of SO GOOD for more on my guitar playing career and its relevance to understanding deliberate practice.