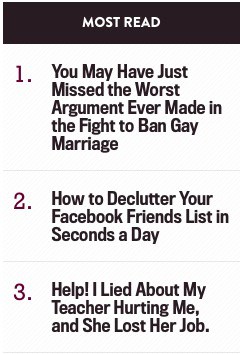 The Facebook Cleanse
Earlier today, one of the most read articles on Slate was titled "The Facebook Cleanse." It was authored by Dan Kois, a veteran writer who reviews books for Slate and contributes regularly to the New York Times Magazine.
The article opens with the following:
"For years, I'd been frustrated that Facebook felt completely useless to me. The signal-to-noise ratio was way too low…my feed was overwhelmed by randos: publicists I'd met at parties years before, comedians with whom I'd shared stages in 2004, siblings of high school classmates, readers I'd friended or accepted friend requests from in hopes of Building My Brand."
At this point in the article, I hoped (fruitlessly) that Kois would then reach the following eminently reasonable conclusion:
"Then I realized that I was a grown man and a serious writer and the fact that I was devoting any thought to this weird, juvenile ad network cooked up by a twenty-year old was ridiculous, so I of course quit."
Alas: I know better.
Kois instead detailed an elaborate and time consuming routine in which he carefully culled, over many days, his "friend" list down to something that felt less useless.
Sigh.
Here's the thing: I don't find social media worthless, but I'm floored by its universality.
It's not surprising, in other words, that lots of people like Facebook, but it is surprising that there are so few people who don't.
Neil Postman warned about this in his insightful (but somewhat overlooked) 1992 book, Technopoly: The Surrender of Culture to Technology. The danger is not when a given technology tries to take over our culture, he warns, but instead when we stop debating the incursion and just assume it's necessary.
(To be clear, I don't know Kois, and suspect he probably has good reasons to use Facebook. I'm just using him an archetype to drive this discussion.)