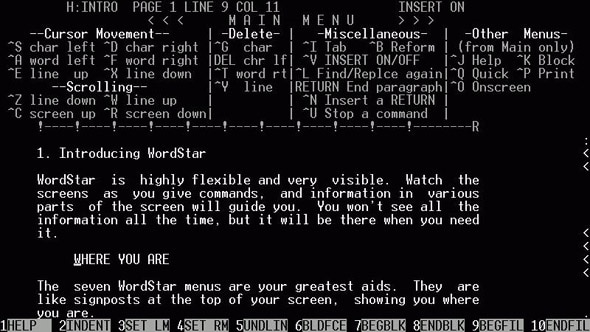 The Habits of a Writer
As I continue to clear out my queue after my end-of-semester blogging hiatus, there's another article to mention that recently caught my attention. The fantasy author George R. R. Martin, it turns out, writes his books using Word Star, an ancient word processor that runs on DOS (see the screenshot above).
"It does everything I want a word processing program to do and it doesn't do anything else," he explained.
Martin is not the only fiction writer with idiosyncratic rituals surrounding his work. Neil Gaiman, for example, famously does much of writing long hand, and Stephen King is very particular about his desk.
This interests me because fiction writers are the epitome of deep workers (to make any progress, fiction writing requires your full concentration), and many of them, like Martin, Gaiman, and King, seem to rely on unusual but well-honed habits to get them into this mindset.
A natural question arises from this observation: Should those of us who work deeply in other fields follow their example?
This has been on my mind recently. In my pursuit to improve my ability to work deeply, I've paid a lot of attention to issues like scheduling (e.g., blocks versus lists) and tracking (e.g., milestones versus hour tallies). Like many knowledge workers, however, I'm  haphazard about the physical details that surround this work. I don't have a special location or special tools I always use. I don't have a head clearing ritual or hike to a hidden glen to tackle my knottiest problems.
But the more I hear about the habits of professional deep workers like novelists, the more I wonder if I should.
One of my goals this summer is to experiment more with the intensity piece of deep work (as I introduced in a recent blog post), and working with depth-inducing  habits and rituals of the type described above should be part of this experimenting. With this in mind, if you've found any such behavior useful in your own (deep) work, let me know about it in the comments.
###
Unrelated note: My friend Laura Shin, who writes from Forbes.com, and has been nice enough to feature me in some of her articles, just published an ebook, The Millennial Game Plan, which collects the best of her writing. She touches on a lot of issues we like to discuss here.