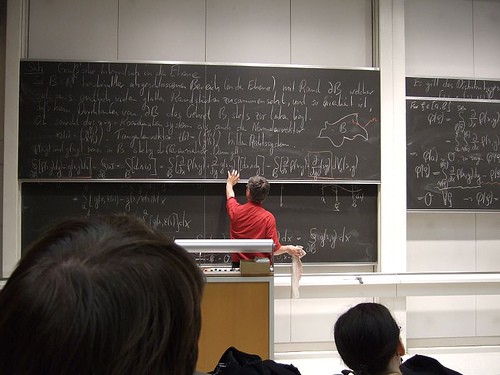 The late summer of 2006 was a heady time for Terry Tao. First, in August of that year, he received the Fields Medal, an elite prize, given only once every four years, that honors the world's top mathematicians. (One of Tao's fellow prizewinners in 2006 was Grigori Perelman, the eccentric Russian who roared to international celebrity by solving the long-standing Poincaré conjecture.)
Next, less than a month after his return from the Fields ceremony, Tao learned that he won a $500,000 MacArthur "Genius Grant" — leading the LA Times to dub him a "Mozart of Math."
Here's what interests me about Tao: on his well-trafficked web site, he has a contact page that starts…
The best way to contact me is via e-mail.
It then goes on to list 22 different types of e-mails that he will not respond to — a list that includes invitations to "collaborate," "contribute data to a project," "give [a] talk," or "attend seminars or conferences." He also declines requests for "career advice" and "copies of his work." On a separate page, he notes that he's "not giving [media] interviews at this time," and diverts all other queries to a representative of the UCLA office of media relations.
In other words, Terry Tao doesn't want to hear from you.
And this is completely understandable.
The world's top math mind is most valuable to society when it's solving our knottiest combinatorial quandaries. Dedicating hours to interview requests and career advice seems somehow wasteful.
But this motivates an intriguing question: why have a public e-mail address at all? Certainly it would be simpler for him to omit any contact information from his web page.
I don't know the specific reasons for Tao's pseudo-accessibility, but his story emphasizes a general trend I first identified in my essay on quitting Facebook: our society has a warped relationship with communication technology. Instead of deploying tools like e-mail to maximize our effectiveness, we grant them default positions in our lives protected by an impossibly high threshold for disuse — a threshold usually articulated as: "If there is any possible negative consequence of abandoning full-throttled use of this technology, I won't."
The scenario that intrigues me is not to move to an opposite extreme and promote a world of techno-Luddism. I like to ponder what the middle ground might look like — a philosophy of work where communication technology is isolated and tuned to specific circumstances where it provides unambiguous benefit, and ruthlessly culled elsewhere.
I'm not sure what such a future would look like, but I can only hope that it doesn't include contact policies so complex that only a mathematician can fully understand them.
(Photo by Christopher Albert)