Quick hits is an occasional feature where I take a breather between my epic big idea posts to share ideas, ask questions, and in general provide a catch-all place for me to catch up with you.
E-mail Renegades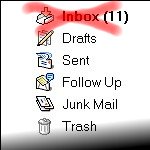 As part of an exciting writing project, I'm looking for people who have taken drastic steps to reduce the distraction generated by electronic communication tools — e-mail, social networks, twitter, etc. I'm more interested in big changes — e.g., getting rid of public e-mail addresses — than I am in moderation — e.g., checking e-mail only twice a day.
I'm interested in stories from knowledge workers, entrepreneurs, and folks in academia — be it professors, grad students, or undergraduates.
If this describes you or if you know someone like this, please e-mail me: author [at] calnewport.com. 
Interesting Links
"When it comes to student loans, financial aid, and higher

educa

t

ion

, everyone's got an opinion. They just usually happen to be wrong." Thus opens Ramit Sethi's barnburner of an article on the costs of higher education.
"Comfortably situated in Chicago outside of the 'start-up' echo chamber, 37Signals is focused on getting sh*t done instead of chasing the Silicon Valley venture capital death spiral" This is Tim Ferriss' description of the tech firm 37Signals. I've been fascinated by this Chicago-based company since I first read about their four day work week policy. Ferriss' article is a great introduction to their unconventional thinking on integrating work into a full life.
"This would suggest that sometimes you're not going to be interested in something right out of the gate." This is one of several interesting conclusions from Ben Casnocha's recent article on the science behind interest development. (A topic, incidentally, that I cover in-depth in my new book on college admissions. Did I mention that I had a new book coming out?)
Coming Up
I have two provocative posts in the works. One describes recent research on people who describe their work as "a calling," while the other explores the controversial idea that competitive college admissions can actually be good for students.
Stay tuned…