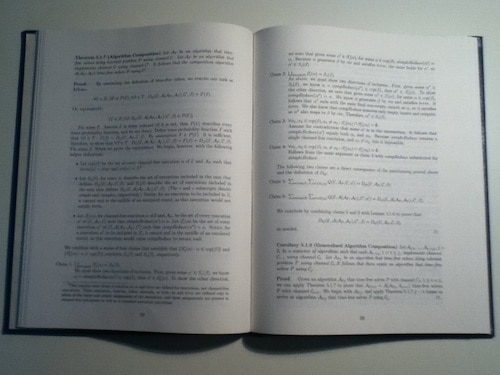 A Novel Dissertation
I began working on my PhD thesis in the summer of 2008. I defended a year later, in early August, 2009.
There's nothing unusual about this timing. What was unusual, however, was my approach.
By June 2008, I had a fair-sized collection of peer-reviewed publications. The standard practice in computer science would be for me to take the best of these results, combine them, fill in the missing details, add a thorough introduction, and then call the resulting mathematical chimera my dissertation.
To me, naive as I was, this sounded like a waste of a year. So I decided I would prove all new results.
This strategy worked fine for a while, keeping me engaged and happy, but then, in April, 2009, things took a turn toward the difficult. It was during this month that I accepted a postdoc position that would start in September.  This meant that I had to defend my thesis over the summer. Suddenly the allure of tackling all new results began to wane.
Here's a scenario that became common:
I would be working during the day on an important proof.
At some point in the late afternoon I would find a flaw.
A helpful voice in my head would point out that my whole future depended on finding a fix — without a fix, it argued, the thesis would crumble, I would be kicked out of graduate school and end up homeless, likely dying in a soup kitchen knife fight.
After heading home, I would continue, obsessively, seeking a fix — ruining any chance at relaxation that night.
After two weeks of this exercise, I decided something needed to change.
It was then that I innovated my shutdown philosophy…
Schedule Shutdown Complete
In the spring of 2009, I adopted the following ritual to cope with thesis anxiety:
At the end of the work day, I would look over my calendar and tasks. I would then check in on where I stood on my major projects (which, at this point, meant my thesis). After taking in all this information, I would come up with a smart plan for the remainder of the week.
Once I was satisfied with my plan, I would say a quick mantra to officially shut down my scheduling for the day. For me, this was "schedule shut down complete," which is a phrase with no particular meaning; it just happened to pop to mind the first time I tested the ritual.
The shutdown, however, was not enough by itself. The ruminating part of my mind would still fire up and propose worries about broken proofs and knife fights. This brings me to the second part of the ritual. Whenever I began ruminating on my work schedule after my shutdown, I wouldn't engage the specifics of the rumination, but instead respond to myself with some variant of the following:
"I completed my schedule shutdown ritual today. I wouldn't have allowed myself to complete the process if I didn't trust that my plan makes sense. Therefore, I'm not worried."
The key point here is that I didn't try to ignore the urge to ruminate — which rarely works — but I also didn't engage the specifics of the rumination — which tends to make things worse. My response was logical but also non-specific.
In less than month, the urge to ruminate on these issues had reduced to become essentially non-existent. So long as I did my shutdown each day, my mind had been trained to release work-related anxiety.
The Craftsman in the Cubicle Project
This story came to mind recently because I'm currently in another period of big changes: I've had a year now to get used to my new job as a professor, my wife and I bought our first house, and we're expecting our first child.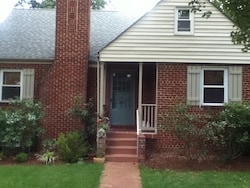 The time is right, I've decided, for a serious round of self-assessment and improvement.
One target of this scrutiny is my professional life. I write often about my career craftsman philosophy (and in fact even have a whole book coming out on the topic), which emphasizes treating your work as craft: focus intently on developing a small number of valuable skills, then leverage these valuable skills to push your career in a direction meaningful to you.
I want to see how far I can develop this idea in my own life.
Over the next month or two, I'm launching a series of experiments designed to re-focus my working life towards a satisfying, craftsman-like concentration on a small number of powerful skills, and away from open inboxes and continuous low-grade distraction.
I'm pretty good at this already. But I want to discover how much better I can become.
This mission will require logistical changes — e.g., how I structure my day or manage organizational obligations —  as well as skill changes — e.g., how I integrate deliberate practice into my work.
I call this the craftsman in the cubicle project because it aims to regain a spirit of craftsmanship in a knowledge work era defined by distraction.
Experiment #1: A Better Shutdown
This brings me back to shutdown routines.
As I move into a new phase of adulthood, a rock solid shutdown ritual is more important than ever before. If I can't get away from work and recharge effectively with my family, then I won't be able to consistently achieve the true hard focus needed for a craftsman-style working life. With this in mind, as my first experiment in this project, I'm revisiting my shutdown routine. I want to soup up the graduate student version of this ritual to one that can handle a life with many more serious obligations at work and home.
Here are three specific upgrades I'm trying:
Shifting to Paper
When I introduced this ritual, I would send my daily plan to myself as an e-mail. I knew that my inbox was the one place I would definitely check everyday, preventing my plan from being ignored.The downside of this strategy is that it forces me to check my e-mail in the morning. This often proves disastrous, as logging into Gmail has a way of context-shifting me away from craftsman-like focus, and toward aimless Internet tinkering. In other words, a ritual that was designed to support a craftsman lifestyle is simultaneously subverting this goal.
Fortunately, I've been practicing this habit long enough that I'm no longer worried about ignoring my plan. To avoid the distraction of my inbox, therefore, I can confidently shift my daily rundown from an e-mail and into an old-fashioned notebook. Chris Guillebeau recently gave me a nice set of moleskin-style ledgers, one for each month of the year. These should serve perfectly for my purpose (and, as a bonus, after a year, I can easily go back and review my planning process).
Disconnecting my iPod
I don't have a smartphone, because I like being bored when I'm away from my house (building comfort with boredom, in my weird mathematician world, equates to building one's ability to focus). I do, however, have an iPod Touch, because I like to download podcasts without having to go through my computer. Some time back, my wife configured my iPod so that I could check my e-mail easily when I'm at home and connected to our network. I hate this temptation because it often wins — ruining my shutdown. Earlier today, as part of my efforts to upgrade my shutdown routine, I deleted my e-mail accounts from the iPod. Checking-in online now requires me to plug in and boot up a computer — something that's just difficult enough to easily resist.
Committing to a DMZ
In my experience, a shutdown is most successful when you can downshift your mind from the high-energy, tackle all problems state it occupies during the workday, to a more relaxed, present state that works best when at home. This transition can be hard. One method I've been toying with is a dedicated meditation zone (DMZ) — which I define as an extended period (at least 20 minutes) of focusing on either a single, non-work related thought, or giving your full attention to a podcast or audio book. The focus on a single thing helps the other parts of your brain shutdown and cool off. As part of my ritual upgrade, I'm committing to a DMZ everyday, immediately following my shutdown. During a normal workday, I'll use my commute. On a day when I work at home, I'll use my daily dog walk and exercise. The key will be consistency.
By explicitly eliminating my shutdown ritual's ability to cause distraction during the workday, and then striving to maintain its integrity after work is done, I'm hoping that it will remain muscular enough to handle this new phase of my life.
I'll keep you posted. In the meantime, onward to more experiments…
#####
This post is part of my Craftsman in the Cubicle series which explores strategies for building a remarkable working life by mastering a small number of rare and valuable skills.
#craftsmanincubicle