Innovation Confusion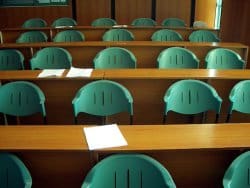 Judging by reader feedback, "innovation" is the most beguiling of the Zen Valedictorian principles. If you'll recall, it states:
Activities that are hard to explain are more impressive than activities that are hard to do.
This principle holds great appeal because hard to explain activities don't have to be unduly demanding of your time or talent. In other words, knocking the socks off an admissions officer might not require getting to Carnegie Hall or winning a national competition.
Many students, however, have trouble applying this principle to their own life. They often ask: "how do I find an innovative activity?"
In this post, I want to offer a specific activity innovation strategy targeted for high school students. It's just one strategy of the many possible, but I hope its concreteness will help get your own thought process rolling. I should note: it's not my idea. It was explained to me by a student who used it to get into Princeton. After I explain the details, I'll tell you her story…

The Independent Study Method for Activity Innovation
This strategy for developing an innovative activity in high school works as follows:
Get a student internship or volunteer position at an organization that does something that interests you.
Pay your dues. Finish the scut work fast and well. Ask questions. Show a real interest.
After establishing yourself as a fixture at the organization, try to identify a small open research question that interests them. Propose that you work on that question, under their supervision. For example, if you're volunteering at an environmental policy organization, you might look into how effective a new strategy has been in your state; nothing that requires great experience, just time and organization. (For the environmental policy example, this might mean developing a survey then calling up places that have tried the new strategy and ask them about it.)
Setup the project as an independent study at your high school, allowing you to do the work for course credit. Most high schools have IS programs. Typically, they allow you a reduced schedule so you have time to get things done on your project.
At the end of the semester, present your findings to the organization. Bonus points if you make some little recommendations that they actually follow.
Here's what's cool about this approach:
It's wildly impressive. When an admissions officer sees that you went off and did a piece of original research that changed the way an organization does business…well, let's just say you'll do better than the guy with 12 club memberships.
It's not time consuming. In fact, it will probably make your life easier. You can take a reduced course load and only attend school for a half day. The research itself is entirely self-directed and there is no competition against other students for grades.
It's fun. Assuming you choose an organization that interests you, it will be cool learning more about the field.
The Technique in Practice
I first heard about this technique from a student who I will call Sarah. Her interest was urban education (she went to a school in an urban area.) She got started with our technique by landing a student assistant position at a nearby charter school. She paid her dues. Eventually they let her tutor some younger students. She did really well. Finally, she proposed that they let her lead a student reading group that met once a week. She knew the charter school was interested in different methods for teaching advanced reading, so she proposed a research project to go along with it.
The school where she worked agreed and the school where she attended let her set this up as an independent study project. The result: she only attended school until 11:30 am each day, took only four classes — two A.P.s, two electives — and breezed into Princeton.
Sarah's not alone. Another student I met, who I will call Eric, was a high school student in California who was an active member of a youth fire and rescue program. When the program hit hard times, he saw his opening, and volunteered to take over a leadership position and help nurse it back to health. His school let him tackle this as an independent study. Like Sarah, Eric was able to avoid the A.P.-saturated course load of his friends, and spend only a half-day in the classroom. He was easily accepted to Northwestern, his reach school.
One Plan of Many
This independent study route is not the answer for everyone. I hope, however, that by seeing a specific plan in action you'll expand your understanding of real world innovation. Remember, there are a million ways to replace hard with interesting. Hopefully this helps you find the one that fits you.
(Photo by Eric James Sarmiento)