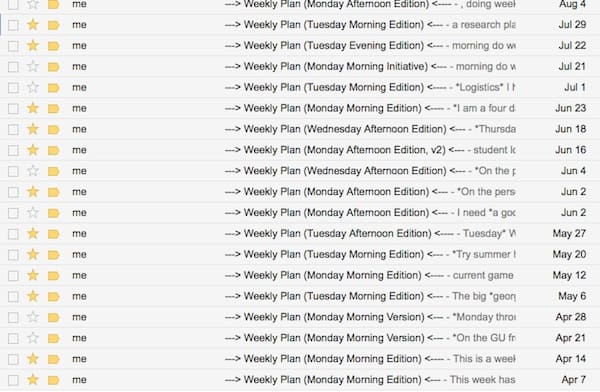 The Temporary Plan
As I've revealed in recent blog posts, there are two types of planning I swear by. The first is daily planning, in which I give every hour of my day a job. The second is weekly planning, where I figure out how to extract the most work from each week.
These are the only two levels of planning that I consistently deploy.
But there's a third level that I turn to maybe two or three times a year, during periods where multiple deadlines crowd into the same short period. I call it (somewhat blandly, I now realize) a temporary plan.
A temporary plan is a plan that operates on the scale of weeks. That is, a single plan of this type might describe my objectives for a collection of many weeks.
When a lot of deadlines loom, I find it's necessary to retreat to this scale to ensure things get started early enough that I can coast up to the due dates with the needed pieces falling easily into place. If I instead planned each week as it arose, there is too much risk that I would find myself suddenly facing a lot of uncompleted work all due in the next few days!
Logistically speaking, I typically e-mail myself the temporary plan and leave it in my inbox. My general rule is that if a temporary plan is in my inbox while I'm building my weekly plan, I read it first to make sure my weekly plan aligns with the bigger picture vision.
A Temporary Plan Case Study
To help make this strategy more concrete, let's consider a temporary plan I developed last spring to make sure that the papers I was working on for a May deadline would come together in time while I still made progress on some other efforts that also had looming deadlines. I replicated this plan below. (I added my commentary in square brackets):
DISC abstract registration is May 9th. Final submission is May 14th. Here is my plan until then…

[Note from Cal: "DISC" is the name of the conference I wanted to submit my papers to. (This is a good time to remind the reader that in computer science most publication activity happens at competitive peer-review conferences with submission deadlines.) I put the deadlines at the top of this plan so I wouldn't forget where I was relative to them.]

April 21 – April 27

Finish full technical draft of Radio Networks (including related work); double check relevant details with <peer>.

Big push on full technical draft of Unreliable Links paper.

Talk to <colleague at Georgetown> about SDN paper.

[Note from Cal: "Radio Networks" and "Unreliable Links" were two papers I was working on for DISC. The "SDN" paper was not for DISC, but I wanted to keep it active.]

April 28 to May 4

Finish full technical draft of Unreliable Links paper.

Resubmit Wireless Survey as soon as that is done

Make PODC CR plan

[Note from Cal: These last two elements have nothing to do with DISC. But I needed to address them.]

May 5 to May 11

Go back and forth between polishing DISC papers and PODC CR work

[Note from Cal: "PODC CR" refers to the fact that I had to submit camera-ready versions of papers for another conference called PODC. It was bad luck that this deadline fell so near the DISC deadline. Most people would probably just leave the PODC CR work until the last minute, but my fixed schedule productivity commitment requires me to be more thoughtful about such efforts to avoid late nights.]

May 12 to Deadline on May 14th

Final polishes.

This is the place to really <polish the intro writing>. Also a time to add  any <extra technical results I know and have space to include.>
Notice, the plan is informal and concise. I just include a few sentences for each week, but a few sentences was enough to guide me through that month of work in an efficient and effective manner. I ended up making it to the relevant deadlines above without spending a single late night working and ended up with a nice result for these carefully scheduled efforts.
A Tool of Last Resort
I call this type of plan "temporary" because I want to emphasize that they're short-lived and used only when the circumstances absolutely require them. To plan at this level regularly would be, in my opinion, overkill.
But when the going gets tough, I've found this bigger picture view to be an immense advantage.
P.S. I've been calling these "temporary plans" for years, but I do recognize that this is a terrible name. Let me know in the comments if you have a better term for them.
#####
My friend Chris Guillebeau's new big deal book, The Happiness of Pursuit, comes out today. I've known Chris since the beginning of his blogging days and have always been impressed by his thinking. This book is no exception. His main thesis is that the pursuit of grand goals generates great satisfaction somewhat independent of the content of the goals. This is an idea I toyed with in Rule 4 of SO GOOD, but Chris takes it somewhere more concrete and compelling. He also lived it with his personal quest to visit every country in the world. Check it out…