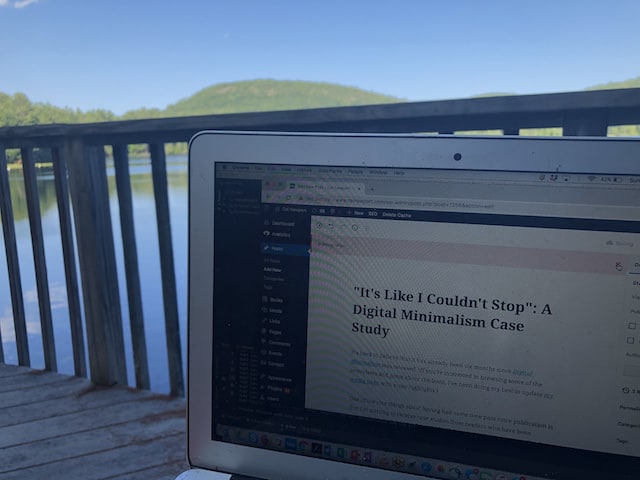 It's hard to believe that it has already been six months since Digital Minimalism was released. (If you're interested in browsing some of the interviews and press about the book, I've been doing my best to update my media page with some highlights.)
One of the nice things about having had some time pass since publication is that I'm starting to receive case studies from readers who have been experimenting with ideas from the book long enough to report results. I thought it might be useful to occasionally share some of these stories, especially for those who are still deciding whether or not to take the plunge with this philosophy.
I'll start today with the saga of a reader I'll call Jane…
As Jane explained to me, she was first exposed to a culture of constant connectivity when she took a job in politics in 2006, an era when Blackberrys ruled the political universe.
"I remember having a boss yell at me once because I went to the bathroom and didn't answer my phone," she told me. "No joke, I was told I should have left my Blackberry with the front desk for someone to answer."
When social media apps and iPhones came along, Jane was well positioned to dive deep into that well of distraction, with Twitter, Facebook and Instagram becoming her primary vices.
"I was constantly on my phone: checking, scrolling, tweeting, liking," she said. "It's like I couldn't stop."
The cost of this behavior went beyond simply the distraction, or the rudeness of checking the phone when with other people ("I couldn't control it!"). As Jane explained, there was also an emotional and psychological toll:
"I felt exhausted and burned out. Instagram and FB made me feel like shit. Seeing everyone's picture-perfect lives was stressful. I knew it was BS but still tried to keep up…[I] felt like I was my overseeing my own personal PR."
Earlier this year, Jane read Digital Minimalism. The ideas intrigued her, but she was skeptical she could go through with the suggested changes: "[I] didn't think I could actually do it."
Then, as Jane puts it, "fate stepped in": she left her iPhone in an Uber and it took her a week to get it back. She was forced against her will to temporarily experience life without a constant digital companion.
"At first, I was super stressed but then an amazing thing happened: I felt great," she said. "Relaxed, calm, it's like I could think clearly. My brain felt less crowded. It's like someone went in and swept out the cobwebs."
When the phone returned, she decided to give digital minimalism a serious try. Though this practice looks different for everyone who adopts it, in Jane's case, it meant that she deleted Twitter, Facebook and Instagram altogether. She also added blocking software on her computer to deter idle web surfing.
"I can't say enough about how much becoming a digital minimalist has changed my life," she reports.
Specifically, Jane found that dumbing down her phone "freed up SO much time," she now listens to podcasts and "reads a ton."
The emotional improvements have also been big. "Not knowing what every single loose connection is doing on Instagram is amazing," she said. "That's what I've realized: I don't need to get [daily] updates about people who aren't actually in my day-to-day life."
As a reminder, digital minimalism isn't about minimizing technology for the sake of minimizing technology — which would be a weird philosophy for a computer scientist like myself to promote. It's instead about putting tools to work on behalf of the things you value most, and then ignoring the distractions that don't clear this high bar.
For Jane, constant social media checks and idle web surfing weren't supporting the things that truly mattered to her, and if anything, they felt like obstacles between her and things she cared about. When she became intentional about her digital life, as with some many others who have made similar commitments, her real world existence became much richer.