"The following are valid excuses for skipping class: I have a fever of 105 degrees; I need to fly to L.A. to accept an Academy Award; today in class we are reviewing a book I wrote; my leg is caught in a bear trap. The moral of this exercise: Always go to class!"
— from How to Win at College
Debatable Attendance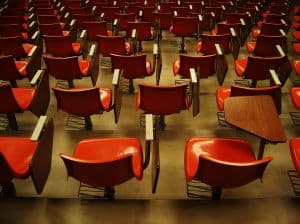 A lively discussion has broken out in the comments thread of last Friday's post. The topic: whether it's necessary to attend class. On one side of the debate is the idea that some professors don't offer any new information in lecture, ergo: you can skip these classes. The other side of the debate says that there's more to lecture than just raw information. The professor, for example, might indicate which material is most important for an upcoming test. As a more straightforward concern, it's also possible that a professor might note your absence, and then penalize you appropriately.
This is a great question and a great debate, so I thought I would weight in. Actually, I already have weighed in on this topic, in chapter 57 of my first book: How to Win at College. As the excerpt above reveals, my advice is unambiguous: always go to class.
Why to Attend
When I first wrote about this topic in How to Win, I gave three main reasons for attending class:
As mentioned in the comments thread from Friday, professors often give indicators (sometimes subtle) about which material is worth really knowing and which you don't have to sweat.
You concentrate better in a lecture hall, listening to the professor in person, surrounded by your solemn peers, then you do trying to read notes or the textbook in your dorm room with the TV blaring. In short: it's a quicker way to learn material well.
Finally, if you skip any class even once then this suddenly becomes an option for all your classes. You now have to endure this debate before every lecture, and that's a hard battle to win, especially during a tired (read: hungover) morning — which occur often. You're much better off keeping class attendance mandatory, always, and take the skipping option off the table.
I want to add a fourth argument that was not originally included in How to Win. It goes as follows: attending class is a sign to yourself that you're taking your academics seriously. Even if you could review the material on your own, to get up and drag your ass to the lecture hall is like callisthenics's for your willpower. If you're worried about wasting time in a lecture that presents no new material, then study the material during class; it's the best study location on campus! But just make sure you get there.