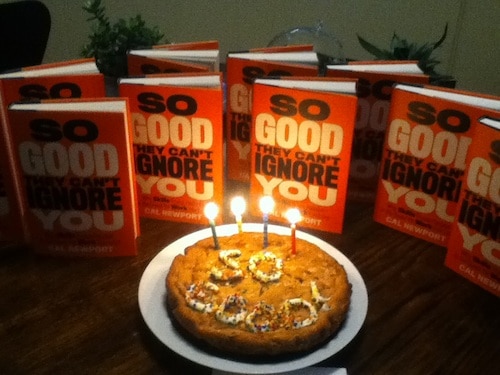 The Education of a Writer
I wrote my first book when I was 21. At the time, I thought it would be an interesting, one-time challenge. But it didn't take long before a more ambitious goal emerged. I decided that I wanted to one day write a  big deal hardcover idea book, in the style of the non-fiction authors I admired, such as Steven Johnson and Bill McKibben.
It took me two more books, a stellar agent, and a decade of training, but today I finally fulfilled that goal. My first hardcover idea book, So Good They Can't Ignore You, is now available. It will be on the New Arrival table at Barnes & Noble stores across the country and available in all relevant online stores and digital formats.
This is an exciting day for me and one that never would have happened without you, my readers here at Study Hacks, who have helped me hone my arguments and my craft. So I humbly thank you.
(And if you're looking for a way to show your appreciation for Study Hacks, buying a copy of this book is a great way to demonstrate your support!)
This brings me to today's post. I have two goals in the sections below: (1) to tell you a little bit more about the book; and (2) to tell you how you can win a chance to speak with me one-on-one about any topic of your choosing.
Onwards to the details…
"Follow Your Passion" is Bad Advice. Here's What Works Instead…
In the fall of 2010, I set out to answer a simple question: "Why do some people love what they do, while so many others do not?"
This quest took me across the country. I met with organic farmers, venture capitalists, computer programers, college professors, med school residents, and globe-trotting tech entrepreneurs, among many others, all in an effort to understand how people cultivate compelling careers.
My new book chronicles this quest and what I discovered.
In more detail, the book is divided into the following four "rules," each cataloging a different discovery:
Rule #1: Don't Follow Your Passion. Here I make my argument that "follow your passion" is bad advice. You've heard me talk about this on Study Hacks, but in this chapter, I lay out my full-throated, comprehensive, detailed argument against this common advice.
Rule #2: Be So Good They Can't Ignore You. Here I detail the philosophy that works better than following your passion. This philosophy, which I call career capital theory, says that you first build up rare and valuable skills and then use these skills as leverage to shape you career into something you love. During this chapter I spend time with a professional guitar player, television writer, and venture capitalist, among others, in my quest to understand how people get really good at what they do. You'll also encounter a detailed discussion of deliberate practice and how to apply it in your working life.
Rule #3: Turn Down a Promotion. Here I argue that control is one of the most important things you can bargain for with your rare and valuable skills. I discuss the difficulties people face in trying to move toward more autonomy in their working lives and describe strategies that can help you sidestep these pitfalls. During this chapter, I spend time with a hotshot database developer, an entrepreneurial medical resident, an Ivy League-trained organic farmer, and Derek Sivers, among others, in my attempts to decode control.
Rule #4: Think Small, Act Big. In this final rule, I explore how people end up with career-defining missions — often a source of great passion. I argue that you need rare and valuable skills before you can identify a powerful mission. I then spend time with a star Harvard professor, a television host, and a Ruby on Rails guru, all in an effort to identify best practices for cultivating this trait.
I conclude the book by talking about how I apply these ideas in my own career. You'll hear about my academic job search process and the types of systems I have in place to help push me toward more and more passion in my work.
If you're serious about loving what you for a living, and are tired of people reducing this complex goal to a simple slogan ("do what you love! the money will follow"), then this book is perfect for you. (If you're on the fence, check out the endorsements from folks like Seth Godin, Reid Hoffman, Dan Pink, Kevin Kelly, and Derek Sivers, or the growing number of unsolicited 5-star reviews).
Purchase details: You can buy the hardcover at most book stores and online at Amazon, B&N.com, 800-CEO-READ, and IndieBound. The book is also available in Kindle , Nook, and audio formats.
Talk One-On-One With Me
To help motivate you to buy the book during this crucial first week I'm offer a promotion in which I'm giving away 30 minute, one-on-one phone calls with myself, to talk about any topic of your choosing.
Here are the details…
I am holding three separate random drawings: one for people who preordered the book; one for people who buy the book this week; and one for people who buy five or more copies of the book. (Not very many people buy in bulk, so if you do, you'll probably have a good chance of being drawn).
To apply, simply forward your receipt to [email protected] with the subject line [contest: preorder], [contest: 1 copy], or [contest: 5 copies], depending on which contest you're entering. (It's important that you use this exact wording and capitalization or your entry might be missed by my filters.)
I will use random.org to draw winners from each category next Monday. The number of winners I draw will depend on how many entries I receive.
If you win, I'll notify you by e-mail, and we'll set up a time to chat on the phone.
#####
Update: 1:40 PM…
My friend Tammy Strobel's new book, You Can Buy Happiness (and It's Cheap), was released today as well. I devoured a review copy of this title and found it exceptionally stimulating. Tammy, who lives in a tiny house in rural California, will challenge your thinking on what defines a good life.
Here's some more press on SO GOOD: