A Focus Opus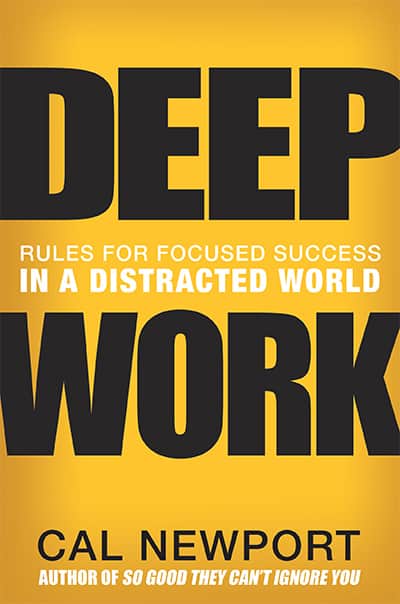 It's official, today is the release of my new book, Deep Work: Rules for Focused Success in a Distracted World. 
The book argues that deep work (focusing without distraction on a cognitively demanding task) is becoming more valuable in our economy at the same time that it's becoming more rare.
The implication: if you're one of the few to take advantage of this trend and cultivate a deep life, you'll thrive.
Not only will you produce at quantity and quality levels that stun your peers, you'll also find your work more meaningful and less exhausting.
To make this claim more concrete, consider me as a case study. As a longtime devotee to depth, I've been able to publish close to 50 peer-reviewed papers as an academic (earning over 2500 citations), write five books as an author (selling over 200,000 copies), and build a popular blog (300,000 page views last month) — all without working at nights and rarely working on weekends. The secret is my fanatic commitment to deep work.
This highlights an important point that I want to emphasize: This book isn't a cranky screed about how kids these days spend too much time on the Facebook, and it isn't a collection of warmed over suggestions about how you should turn off notifications on your phone and not check email first thing in the morning.
It instead calls for a radical transformation to your work life in which focusing with great intensity becomes your core activity, not an occasional indulgence.
With this in mind, the book then details specific strategies, divided among four "rules," that you can use to accomplish this transformation — covering topics from focus training, to effective scheduling, to rituals and routines, to aggressive tactics for taming the tide of shallow obligations that constantly threaten to drown the typical knowledge worker's day.
Give Yourself the Gift of Depth
To help you learn more about the book, I've included below an annotated table of contents and a link to a long excerpt.
In the meantime…
If this topic sounds interesting to you — whether you're a longtime reader of my writing or new to the party — please consider buying a copy of this book.
If you already bought the book and found it useful, please consider buying copies for your friends or colleagues (if you do buy multiple copies, send me an email so I can thank you personally).
I'm proud of this book and believe it can have an impact on how we think about work in a digital age.
Deep Work is available now at Amazon (kindle and hardcover), Audible, Barnes and Noble, IndieBound, or anywhere else books are normally sold.
---
Annotated Table of Contents
The book is divided into two parts. The first part makes the case for deep work, while the second part teaches you how to become better at this skill.
(Note: An extended excerpt from Chapter 1 is available here.)
Introduction
In the introduction, I define the key terms deep work and shallow work and then detail the deep work hypothesis summarized above. I also tell the story of my own history with depth, starting with my arrival as a new graduate student at the Theory Group at MIT and continuing until the present day.
PART 1: THE IDEA
Chapter 1: Deep Work is Valuable
In this chapter, I make the argument that deep work is like a super power in the new economy, as it allows you to learn hard things quickly and produce output at high levels of quality and quantity. (Read an excerpt.)
Chapter 2: Deep Work is Rare
In this chapter, I address the elephant in the room: if deep work is so valuable, then why are so many organizations encouraging behaviors that discourage it (e.g., open office plans, constant connectivity, mandatory social media use)? I introduce the ideas of The Principle of Least Resistance, Busyness as a Proxy for Productivity, and The Cult of the Internet to help explain this self-defeating trend.
Chapter 3: Deep Work is Meaningful
In this final chapter of Part 1, I draw from neuroscience, psychology, and philosophy to make the argument that deep work is intrinsically satisfying and provides a much more meaningful work experience than jumping frenetically from one shallow task to another.
PART 2: THE RULES
Rule #1: Work Deeply
This rule details multiple strategies for regularly making time for deep work in your schedule and getting the most value out of these sessions. Among other things, you'll learn how to find a philosophy for scheduling depth that fits the constraints of your particular job, how to build effective depth rituals, and how and why to implement shut down routines for the end of your day.
Rule #2: Embrace Boredom
This rule details multiple strategies for training your ability to concentrate. It's motivated by the claim that focus is a skill that must be developed before you can do it with any effectiveness. Among other things, you'll learn why it's more important to schedule distraction than to schedule focus, how to meditate productively, and why you should approach your work like Teddy Roosevelt.
Rule #3: Quit Social Media
This rule details multiple strategies for aggressively limiting the sources of carefully-engineered distraction in your life. A core idea of this rule is that most people select digital tools using the any benefit mindset, which claims that you should use a tool if it can provide any benefit. This rule argues that you should instead use the craftsman mindset in which you only select the tools that provide the most substantial benefits to the things you find most important. Or, to simplify greatly: vastly fewer people should be using Facebook.
Rule #4: Drain the Shallows
This rule details multiple strategies for reducing the number of shallow obligations in your professional life and then tackling those that remain with much greater efficiency. The motivating idea for this rule is that if you have too many shallow obligations on your plate, you'll have no time or energy left for the deep work that really matters. Among other things, you'll learn why you should negotiate a deep-to-shallow work ratio with your boss, why you'll get more done if you stop working at 5:30 each day, and how to significantly reduce the time you spend in your email inbox.
Conclusion
I conclude the book with an unexpected take on Bill Gates's rise to success (hint: he's really good at deep work), and a final pitch for the value of a deep life as compared to the increasingly exhausting, and increasingly fruitless, swirl of shallow busyness that's so common today.