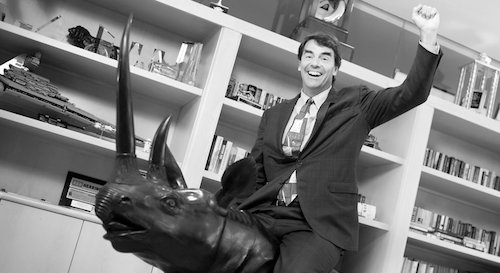 School for Heroes
Every morning, the students at the Draper University School for Heroes recite an oath:
"I will promote freedom at all costs."
"I will do everything in my power to drive, build, and pursue progress and change."
"My brand, my network, and my reputation are paramount."
This school was recently founded by the famed Silicon Valley venture capitalist Tim Draper (pictured above). Its goal is to produce "innovators" who do the "great things they are capable of."
It's also an idea that I am convinced will fail. And it's what's missing from this oath that underscores why.
Innovation is Fueled by Mastery
The program at the Draper University School for Heroes focuses on soft skills. There are classes in idea generation, painting, networking, and, for some reason, first aid and suturing.
There's nothing wrong with maintaining a robust network or hearing inspirational speeches about being the change you want to see in the world. But this is not nearly enough if your goal is producing impactful innovation.
In researching my last book, I interviewed many people who ended up making a real impact on the world, including innovative biologists, agriculturists, and education entrepreneurs. The common trait they shared was expertise. They each started by putting in a lot of work to master something hard but valuable. It was this mastery that gave them the insight and ability needed to do produce real innovation.
As currently structured, Draper University focuses on young people, who, for the most part, do not yet have any expertise. Some have even dropped out of school in their eagerness to get started in their quest to do something big. Draper would applaud this boldness. I think it's premature.
If you fire up a group of college students to go start companies and change the world the result will likely be yet another consumer-facing start-up focused on the needs of twentysomething Californian college students (to ape George Packer's recent critique of the Valley).
By contrast…
If you want Google you need a pair of guys who were well along in Stanford's PhD program and who were well-versed in the state of the art Information Retrieval literature.
If you want Microsoft you need a nerd who obsessively honed his programming skills and was willing to spend sleepless months mastering the opcodes of the first microprocessors.
If you want to sequence the human genome you need an entrepreneur who first spent a decade working in academia and at the NIH mastering the latest advancements in biogenetics.
And so on.
In other words, I support the vision of Tim Draper. The soft skills he teaches are important. We need to be reminded and encouraged to take risks and think big.
But I disagree with his choice of a target market. For the most part, the people most poised to really make a difference are not the eager college students currently occupying the bean bag chair-equipped lecture halls of Draper U, but instead are more likely to be found among the senior doctoral candidates and recently tenured professors at the world-class universities that happen to be within spitting distance of Draper's San Mateo campus.
What's missing from the oath of Draper University, in other words, is a commitment to putting in the hard long hours necessary to master the fields from which the next big innovations will surely arise. The soft skills are meaningless without something hard to back them up.