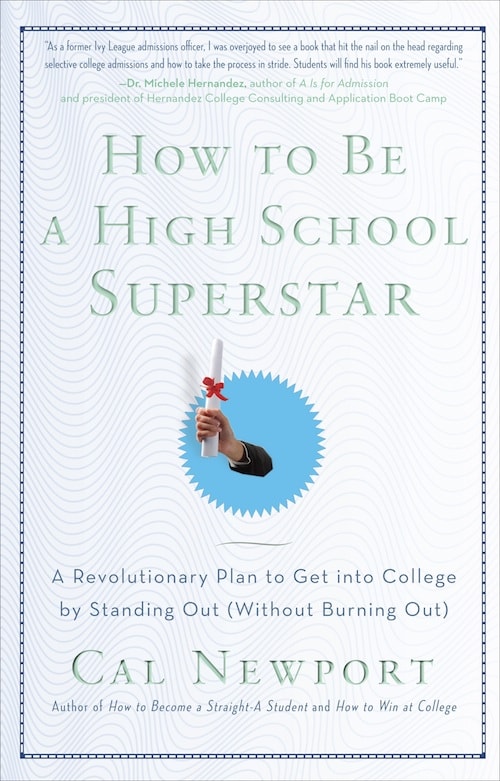 The Best Book (of Mine) You Haven't Read
My third book, How to Be a High School Superstar, is one my favorite things that I ever wrote.
The book is best summarized as a college admissions guide written in the style of Malcolm Gladwell. Within its pages, I dive deep into the science and psychology of impressiveness and argue that it's possible to do well in college admissions without being stressed out and overworked (see this blog post for more details).
One of the big ideas in the book is that exceptionally impressive accomplishments are rarely planned out in advance. They instead usually come from the following cycle:
the student chooses something that seems interesting,
the student follows through and completes the pursuit,
the student surveys the new opportunities this makes available, then he or she repeats step #1.
Follow this for strategy for a year (or even less!) and you'll likely end up somewhere quite impressive (at least, by college admissions standards), without having to stress yourself out with twenty activities or attempting to become a world-class musician.
A reader recently sent me his experience following this strategy in high school. Given that it's back to school season, I thought I'd share it (with my commentary added):
I was going to be a sophomore in high school and I wanted to write a sports blog. "Hmm," I said to myself, "let's write it about the New York Knicks." To be honest, I had never been a huge Knicks fan but always wanted to explore a professional sports team in-depth.
[Note from Cal: Contrary to conventional wisdom, this student did not start by identifying an unquenchable passion. He just thought it might be interested to try blogging. He didn't even particularly like what he was blogging about. He certainly had no master plan for where it would lead.]
I started writing blog posts every day. Pretty soon, I had a decent following.
Among the community, within three months, I was quickly becoming a "go-to source" for Knicks info.
[Note from Cal: His next step was to pay his dues. People don't expect 15 year-olds to follow through on self-directed activities. When you do, good things happen…]
I emailed the Knicks media department seeing if I could get credentials to Media Day where you interview professional basketball players. They said: "Sure, just send us your Google Analytics and we'll see if we can approve you." Sure enough, they did.
(Little did they know I was 15 years old at the time.)
My mom drove me. It was me and a bunch of professional journalists asking these basketball players a bunch of questions. There were kids who would have died to be in my position!
Shortly thereafter, a writer from the New York Daily News mentioned me, my site, and my story in a blog post.
Even though I had a subpar GPA and a decent SAT score, I got into my top choice.
[Note from Cal: When you hear, "this kid is a credentialed sports journalist featured in the New York Daily News," your first instinct is to think he's a prodigy and a genius. But when you then learn the details of his real story — as with most such "gee whiz" student tales — you realize the path was more humble. He choose something interesting and followed through. He then asked, "what's next?" This isn't easy. And it requires quite a bit of confidence. But what's important is that it's not nearly as stressful as what most ambitious young people put themselves through during this process.]