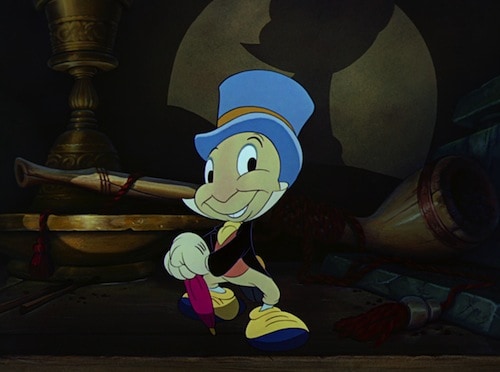 Believe in Your (Animated) Self
A reader recently sent me an article from The Atlantic. It was titled (quite descriptively): You Can Do Anything: Must Every Kids' Movie Reinforce the Cult of Self-Esteem?
The writer, Luke Epplin, points out that modern animated kids films have largely fallen into a formulaic rut:
"[The protagonists are] anthropomorphized outcasts who must overcome the restrictions of their societies or even species to realize their impossible dreams."
In these movies, explains Epplin:
"[I]t's the naysaying authority figures who need to be enlightened about the importance of never giving up on your dreams, no matter how irrational, improbable, or disruptive to the larger community…Following one's dreams necessarily entrails the pursuit of the extraordinary in these films. The protagonists  sneer at the mundane, repetitive work performed by their unimaginative peers."
It's believing in one's self, for example, that allows a fat panda to become a Kung Fu master, a to rat become an accomplished chef, and a creaky crop duster to become a world class racer — after only a bare minimum of training and essentially no experience.
The fools in these movies are those poor suckers who wasted their time practicing when all they really needed was a pep talk.
G-Rated Career Thinking
Epplin draws a connection between this narrative device and the rise of the cult of self-esteem among young children. I'm interested, however, in a different (and equally disturbing) connection.
These (literally) childish plot devices are eerily similar to the popular conversations surrounding career planning. The passion culture tells us that the key to an extraordinary life is to look deep, be true to your inner passion, and courageously ignore the naysayers as you pursue your dream.
Here's a quote, for example, from a popular career guide:
"You see, I believe you already have everything you need inside of you. You are good enough the way you are. You've simply learned ideas that keep you from living up to your full potential."
Here's another quote, this one from one of the growing number of lifestyle design blogs:
"[D]eep down in the chambers of your heart where your personal legend lives, you know you were meant to change the world."
It's easy to imagine these quips coming out of the mouth of an anthropomorphized panda bear or kindly puffer fish in a Disney movie.
And this is a problem.
These similarities, once pointed out, emphasize an important and distressing reality: The ubiquitous suggestion that you must find your passion and overcome naysayers is not deep wisdom. It is, instead, the plot of a kiddie movie.
If you study real people who build remarkable lives in the real world, you find their paths are more nuanced, more complicated, and usually quite a bit more interesting. These paths tend to involve quite a bit of hard work — much of it conventional — and don't tend to involve a lot of bold resistance to the status quo. (Society, it turns out, doesn't care what you do for a living. It cares more about how well you do what you do.)
It's time, in other words, for our taste in career advice to mature alongside our taste in movies.