A Professor Speaks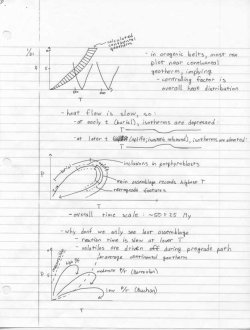 Earlier today I received an e-mail from David Hirsch, a professor of Geology at Western Washington University. He pointed me toward a web page titled Dave's Tips for Student Success, which he setup to help the students in his science courses perform better at the college level.
As you might expect considering its source, the page is rich with powerful insights on topics from effective study groups to class attendance. The advice is all built around a common theme (familar to Study Hacks readers): understanding the material is everything and the only thing that matters!
It's obvious, but it's worth hearing. Especially when it's coming from the guy who writes the tests.
In this post, I want to highlight one tip in particular — Dave's advice on note-taking in science classes.

He says:
The most useful technique I used in college was copying over my notes thoughtfully. Doing this correctly can be a way to reveal to yourself the holes in your knowledge, but it must be done with a particular mindset. The goal should be to produce a set of notes that are sufficient to re-teach you the material in ten years after you've forgotten most of it.
This hits my ear as a time-tested and practical take on the Quiz-and-Recall method. That is, you shouldn't consider your studying done until you can get up in front of a class and teach it.
Period.
The good professor continues with some more specifics on how to best accomplish this note transformation. For example:
This copying over should be performed at least 2-3 times per week, and typically with the textbook at hand to clear up any confusion you have about the material.
He also adds:
[by re-copying your notes in a more organized manner] you should quickly find out what bits of the material do not make sense to you, and you can then use the text to remedy that lack of understanding, or, failing that, ask your instructor.
This ideas shows up often on Study Hacks: identify your trouble spots as the semester progresses, do not wait until the weekend before the exam to try to fill in these gaps. This note-taking method forces this continual clarification.
If you're a science student, I suggest you read the whole article for more details and screen shots of sample notes. You might just save yourself from four years of science course-induced headaches.
(Image by David Hirsch)